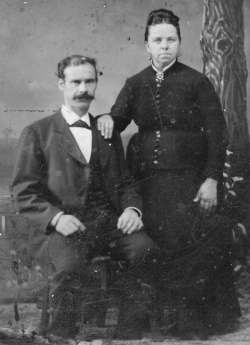 A tintype of Matthew FAGAN and Margaret EGAN, probably taken during the 1880s.
Matthew Fagan, born 1850-1852 County Cavan, Ireland; died in Manhattan, June 10, 1918
Margaret Egan Fagan, born around 1852 in Ireland (county unknown); died in Hunters Point, January 2, 1900.



Note that all Queens addresses have relocated since that time, but the Jackson Ave. addresses were at the foot of today's Jackson Ave. The gaps reflect the gaps between available sources In reality, all ranges could extend earlier or later..
HOME ADDRESSES (est dates)
MANHATTAN
1871-18??: 218 E 26th?, (nr 2nd ave, not confirmed)
1880-1886: 320 E 26th, (cnr 1st ave)

HUNTERS POINT, LIC
1890-189?: 126 7th st (now 47th Rd.)
1898-1900: 97 Jackson av
1904-19??: 67 Jackson av
1911-1912: 123 11th St (now 45th Rd.);
1915-19??: 111 12th St (now 45th St.);
1911-1912: Thomas at 423 1st av (now 30th st?, Astoria)
1917-1918: 537 W 150th, Manhattan (Matthew with Anna & Mike)
1920-1926: Thomas at 506 2nd av (now 30-71 31st st, Astoria)

SHOP ADDRESSES (est dates)
HUNTERS POINT
1891-1904: 33 Jackson av
1905-1912+: 104 Jackson av

[home] [TREE] [Immigrants] [Caffrey townland]
Narratives: [Eugene] [Edward] [Lawrence]
[Matthew 1] [Matthew 2] [Obit] [Baps/Births] [Children 1][& 2]
Carlons intro | part 1 | part 2
---
Birth Although the baptismal register from his period of birth no longer survives, Matthew Fagan reported his birth year fairly consistently as 1851 or 1852. Because of his mother's age (she was inconsistently reported, indirectly, to have been born in c1802, c1805 and maybe c1810) and because of her span of childbearing, beginning in 1828, my hunch is that Matthew was born closer to 1850. If he was born around 1850, and migrated between 1868 and 1870, then Matthew followed the established pattern of that era, of children leaving the old country at the age of 18. For the record, his death certificate gave his birth as July 17, 1853, but this is unsupported and unlikely. His MM/YY of birth was cited as Feb 1852 in the 1900 census.

Childhood Based on what we know, it is likely that Matthew was among the last of his family to leave Ireland. His parents apparently left him in Cavan as a child (possibly 3-7 years old), to be raised by family who stayed behind. His caretakers would have been siblings, his maternal grandparents Laurence and Anne (Kennedy) Caffrey and his two unmarried uncles James and Matthew Caffrey. (Matthew Caffrey was to marry very late in life, after Matthew Fagan left Ireland). We don't know how long most of Matthew's siblings stayed in Cavan with him, but Eugene (b. 1833) and Laurence (b. 1840) reported immigration dates of 1861 and 1862. Edward probably migrated earlier, possibly with the parents, possibly between 1855 and 1857. We don't know when his sisters came over. Matthew's migration appears to have followed the deaths, in 1866 and 1868, of his Caffrey grandparents but I don't know if this was significant.

New York The 1900 census, the only document on which Matthew Fagan stated his year of immigration,, he gave it as 1870. His death certificate enforced this date. However, a Matthew Fagan was listed in New York on Oct 11, 1868, as baptismal sponsor of brother Eugene's first child, Catherine. (Register of St. Stephen's on East 28th Street). Was this his first appearance in New York? Was this yet another Matthew Fagan? Was it an error in the register? Until I find a confirming record of Matthew's immigration, the jury is out. Furthermore, I have not found Matthew in the 1870 census for the state of New York, and he had no New York City directory listing himself until 1871, at 218 E 26th, as a smith. I should add that this listing is not confirmed as "our Matthew" and it was not repeated. In fact, between the 1871 and 1878, his presence in Manhattan is assumed but not confirmed. The 1878 incident is another baptism, again for one of Eugene's children, and again, not confirmed as our Matthew Fagan. Based on these two baptisms, I conjecture that Matthew iived, like Eugene, in the East Twenties, but again, there is no proof. Perhaps he "floated" until his marriage, living with one brother or another in Manhattan, or brother Edward in Bridgeport.

Early married years Matthew's first confirmed appearance was in the June 1880 census, as a married man. I have not located any record of his marriage to Margaret Egan, but it probably took place ca. 1879. The census (unfortunately, undated) found Matthew and Margaret, childless and living in a 10-unit apartment house at 320 E. 26th Street. Days after the census was taken (June 14) their first child, Edward Patrick, would be born. In fact the first four (and probably five) of the Fagan's six children would be born here. See table of early certificates and Fagan Baps/Births) These certificates are the first real record of the family.

Though his 1892 New York State census (Long Island City) listing, says that Matthew was a naturalized citizen, and he was on the Queens voter rolls in 1910, I have found no record of naturalization for him in NARA's New York City or Connecticut index cards. Furthermore, I have not found any ship listings for Matthew or for any of his brothers. Note that this does not suggest any kind of irregularity in naturalization. The NY passenger lists for those years were so voluminous they have not yet been indexed. Naturalization records are partially indexed, and only in local batches, so one is forced to check every possible locality. It is possible that Matthew spent his eariest years in the US outside of New York City.

The Fagan's Manhattan residence, on the southwest corner of 26th Street and 1st avenue (opposite Bellevue Hospital), was a few blocks south of the ferry that crossed the East River to Hunters Point, Long Island City. It's tempting to speculate that this ferry was Matthew's means of commuting to a job in Queens and that he eventually found a residence in Hunters Point and moved the family closer to his place of work. His obituary mentioned a forty year span (ending in 1916) as a blacksmith in Hunters Point, and this would support the speculation.

The move to Queens The last Manhattan-born child, named Matthew, died at the age of 11 months on April 9, 1889. His death certificate, issued in Hunters Point, gives the information that the family moved to Queens County 4 months before his death. This child Matthew, buried as he was in a Calvary plot belonging to Matthew Sr.'s brother Eugene, was the pivotal clue that linked Matthew Fagan to Eugene and to their mother.

Matthew and Margaret's youngest child, Mary Margaret Fagan, was born Mar 4, 1890, 11 months after the baby Matthew's death. Her baptism marked a new affiliation for the family, with St. Mary's Catholic Church in Hunters Point. (Present addresss: 10-08 49th Ave.)

My research into this family got off to a frustrating start because Matthew's children did not pass along to the next generation the fact of their Manhattan origins. Note that all children were under 7 when they moved, and all attended school in Queens. Only Anna, 6 at the time of the move, would have had more than a dim memory of the Manhattan days. Accordingly, the places-of-birth on the childrens' death certificates were incorrect, except that of the urbane Edward J's. Even Thomas F. Fagan's 1936 obituary gave Hunters Point as his place of birth. Oddly enough, Mary, who was indeed born in Hunters Point soon after the relocation, had NYC listed as POB on her DC--and it was Anna who was informant to Mary's death. The places-of-birth listed on marriage certificates were all correct so the children themselves were aware of their origins. They simply didn't pass the facts on to their children.

Anna graduated from Long Island City High School in 1899 and Thomas was said to have attended the old Ward 1 School at 6th Street near Vernon av in Long Island City. Mary, who was disabled to an extent we can only guess at, did indeed graduate from the Queens school system.

We know little about Margaret (Egan) Fagan. She died suddenly of heart disease at the age of 47, just a few months short of the 1900 census - which might have revealed more about her.

More about Margaret and Matthew.