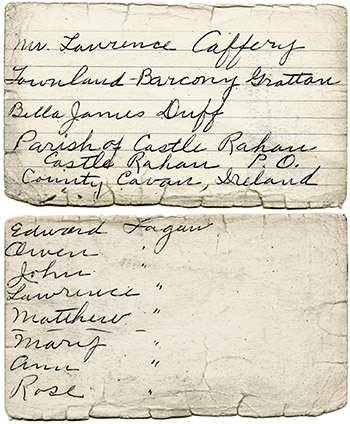 THE NOTE on the left, written in Anna (Fagan) Fenton's handwriting, was a vital link between the old and new world. Without it a connection between the American Fagans and our Irish cousins would have been unlikely.

We know now that it gives the name of her father Matthew's surviving relative in County Cavan, his mother's maiden name, and most likely his place of birth. With spelling adjustments, the townland is Barconey Grattan, the closest town being Ballyjamesduff, in the parish of Castlerahan, county Cavan, Ireland. Since that day, the only change in the family's postal address would be a switch to the Ballyjamesduff postal district. The family in Ireland uses the spelling CAFFREY (the generally accepted spelling in Ireland today).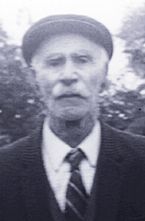 Laurence Caffrey II, ca. 1970

The Laurence Caffrey mentioned in the note could be one of two relatives: Laurence the first, Matthew Fagan's maternal grandfather who died in 1868, just about the time Matthew left Ireland, or his grandson Laurence II, Matthew's first cousin, (1884-1974) who was born and died, lived and farmed in Barconey Grattan.

The provenance of the note is unknown, but because of the inclusion of the P.O., it's likely that Anna in New York corresponded with Laurence II in Ireland, perhaps in 1918, when her father died.

There was also an exchange of letters between new and old countries after the death in 1914 of Edward Fagan of Bridgeport. Edward's younger daughter Margaret Fagan wrote to Laurence Caffrey requesting her father's baptismal transcript from the Castlerahan church in which he was baptized in 1839. The Connecticut Fagans still have Laurence's reply and the baptismal certificate he sent. Despite the fact that Anna, Margaret and Laurence II were contemporaries, he was first cousin to their fathers. Laurence was the product of a marriage very late in life, of the elder Laurence Caffrey's youngest son, Matthew Caffrey (c1823-1911).

---
Caffrey/Fagan TREE | photo of Caffrey gravestone
---
From a transcript of the 1821 Census for Barconey Knocknawellan, (1) Ballyjamesduff, Castlerahan, Cavan, Ire
---
Names and ages
• Laurence Caffrey(2) 40(3)
• Anne 39
• Mary 15 [our ggm]
• Allan 13 (4)
• Catherine 11 (4)
• Bridget 9 (4)
• John 5 [emigrated]
• James 2 [remained in BG]
---
(1) Knocknawellan was later known as Grattan
(2) Caffrey was transcribed as Gaffney
(3) Laurence's age probably greatly understated.
(4) person otherwise unknown

Considering the huge loss of Irish records in a 1922 fire in Dublin, we are lucky in finding at least some Caffrey family records. Before the 1821 census was destroyed, a transcript was made for the Castlerahan section. This transcript shows a nearly complete head-count for the Lawrence Caffrey family. (Matthew Caffrey, born about 1823, was the only family member we know to be missing). Indeed, this transcript is the only source to name some children who were born during periods for which no baptismal records survive.

The only confirmable inclusions are children John and James, who appeared in surviving baptismal records. Their dates are correct. The name of Allan is not a common Irish name and has never appeared in family records. It could well be that the name "Allan" was misheard or mistranscribed.

We know little of the mechanics or impetus of the Fagan (and possibly Caffrey) migrations but the earliest Fagan immigration date suggested by 19th century records was the daughter Mary Fagan, who probably immigrated to Manhattan around 1848 and was in the 1855 New York State census with husband George Eason and her first daughter. The next was 1855, when Mary Caffrey Fagan (and possibly her husband Edward) was said to immigrate. The presumed source of this date was Eugene Fagan, who was probably the informant on Mary's death certificate. The next date cited was Edward Jr.'s 1857 (1910 census) and as army records suggest the same year, it was certainly no later. Matthew named 1870, but there is evidence that he was already in Manhattan in 1868. None of the dates are solid because I have found none of our Fagans in ship listings (The NY records are unindexed for the years in question) and I've found only two certain naturalizations--both of them in 1866.

John Caffrey One of the most intriguing, though unconfirmed, family stories involves John Caffrey, born in 1816, who (the story goes) was arrested and made by British authorities to emigrate because of the offense of shooting rabbits on a Sunday. As the story continues, intercession from Henry Grattan reduced his sentence from death to migration. The family never heard from him again, although Irish relatives, when visiting New York, were said to happen upon him in his own blacksmith shop. A further variant on the story has him migrating to Cork and joining the army, after which he migrated to New York.

In fact, the last certain record of John Caffrey's life was in 1821, and we know of no descendants. He may prove to be impossible to trace, because it is rare to find information that links individual immigrants with townlands, much less counties.

There were several John Caffreys in the Cavan records and many of them in Manhattan and Brooklyn records. The New York blacksmith shop in the story could easily be a confusion with Matthew Fagan, who had a shop in Long Island City, or more likely Eugene Fagan, whose shop on East 29th Street was at what was said to be the epicenter of Cavan immigrant activity. For what it's worth, I have found no John Caffrey, blacksmith in any of the city directories or censuses I have looked, though JCs of the proper age are indeed present.

I have, however, found a John Caffrey 5 doors down from Eugene Fagan in the the 1870 census. This John Caffrey was a mechanist born in Ireland in 1820 and living with unrelated people in a boarding house. Also with him were two other Caffreys, whose relationships were not stated: Andrew 28 (car driver) and Thomas 21 (plasterer). At this time Eugene lived at 427 3rd avenue.

---
Edward Fagan (b. ca. 1800. d. aft 1852), origins are also undocumented. Caffrey family lore has it that Edward Fagan was not a native of Cavan, but may have been from the neighboring Oldcastle, Meath area. Around 1827-28, Edward married Laurence Caffrey's oldest daughter Mary (aka Ann or Anna) and settled in the Barconey area. Baptismal records place the Fagan family in Mountprospect in 1828, in Barconey (naming no subdivision) throughout the 1830s and in Barconey Robinson (immediately NW of Gratton) in 1840. Oral tradition says that the family lived in Barconey Gratton, but this doesn't rule out an eventual move to Gratton after a few years in neighboring townlands. It is equally possible that the baptismal records are simply incomplete or wrong.

The family stories hold that Edward, who was remembered as a dynamic sort, built the stone house in Barconey Gratton in which the Fagan family lived. This house, originally one level with thatched roof, is the only 19th century structure that remains on the land. It has been used continuously as a dwelling since the 1840s. Electricity was installed in 1956 and the house was renovated extensively in 1976, with a second story added.

Edward was also remembered as the moving force behind two farm projects, the results of which are still in use today: one is a wrought iron gate and the other is a system of underground runoff tunnels which drain the land of rain. Though there was no foundary on the land, the gate may be a connection to the chosen occupation of four of his sons: that of blacksmith.
The absense of a foundary in B. Grattan could also explain the family's early recorded presence in other townlands than B. Grattan. Edward might have had a place of work elsewhere.

Specific evidence of Edward Fagan's existence ceases during the early 1850s, with the (unrecorded) birth of his son Matthew, but it is clear that his wife migrated to the US and probable that he was with her.

I found this small item in the New York Herald, August 25, 1870, page 1.


INFORMATION WANTED--OF EDWARD FAGAN of Ireland, late of Greenport, L.I. by his wife Mary Fagan. Greenport, Suffolk County, L.I.;
Malone, NY and Louisville, Ky., papers please copy.

I have found no evidence that these people are "our" Edward and Mary or that they are an Edward and Mary Fagan, that were in census in Islip, Long Island from 1860 to 1880. Note that Greenport is on the northern shore of Long Island, in the town of Southold, very near Shelter Island, and not particularly near Islip, which is on Long Island's south shore.

One clue that might eventually shed light on Edward's death: Mary Caffrey Fagan's death certificate gives a year of immigration of c. 1855 but says she was not a resident of NYC until c. 1861 or c. 1866. If this was accurate, it could suggest a scenario in which she lived elsewhere with Edward until his death, at which time she moved to Manhattan.

Mary (Caffrey) Fagan Most of our knowledge of Mary Caffrey is from secondary sources. Her birth is unrecorded, but roughly 1804-5, per 1821 census. Her children's baptismal records, which begin in 1828, suggest a marriage about that time, but the marriage itself is unrecorded. Most remarkably, her youngest son Matthew (birth unrecorded) has reported that he was born in 1851 or 1852, giving Mary a childbearing span of 23-24 years, ending when she was roughly 47 years old. While this is not impossible, I mistrust some of the figures. I suspect that Mary was born a couple years after 1805, and that Matthew was born a year or two earlier than 1851. (Note that Matthew also gave 1870 as his immigration year. The veracity of this is also clouded by the fact that a Matthew Fagan stood as sponsor to an 1868 baptism of one of his brother Eugene Fagan's children at St. Stephen's in Manhattan.)

A widowed Mary Fagan, died in 1877 at Eugene Fagan's apartment in Manhattan. No identifying information (such as maiden name) was recorded on her death certificate, but her death notice has confirmed her identity as the mother of Eugene Fagan and therefore Mary Caffrey. (Note that Eugene consistently used the spelling FAGEN, though in the final accounting, he was buried in a grave marked FAGAN).
Death Notice: N.Y. Herald - Fri Jul 6, 1877 FAGEN--July 4, 1877, MARY, relict* of Edward Fagen, native of the parish of Castle Raghan, county Cavan, Ireland Friends of the family are respectfully invited to attend the funeral, from the residence of her son Eugene Fagen, No. 240 East 30th st, at half-past one o'clock, July 6, 1877.
* relict: survivor or widow
Since she died at her son Eugene's home, the information on Mary Fagan's death certificate was probably provided by him. Some of it contradicts other information we have about her, but all dates except her date of death and burial, are unconfirmed and disputable. I feel that the age 75 is almost certainly an over-estimate.
Manhattan certificate# 267629
Full name Mary FAGAN
Date of death Jul 4, 1877 4 PM
Age: 75 [1802, contradicts 1821 census, which suggests 1805-1806]
Occupation: none
Marital status: widow
Place of Death: 2?? East 30th Street, 21st ward, 3rd floor
Type of premises: 10 families
Birthplace: Ireland
How long resident in US 22 years [1855, date not confirmed elsewhere]
How long resident in City: 10? 16? years [entry obscured. Would have been 1860-61 or 1866-67]
Father & Mother birthplace: Ire
Medical
Attended from: July 1, 1877
Last seen alive July 1, 1877
Cause of death: Old age
Contributing cause: debility
Burial: Calvary, July 6, 1877
Undertaker: L.F. Lockridge, 315 E 26 St
Doctor: P.L. Lynch, MD, 216 E 13th St

* Certificate was hand-stamped in center. Items obscured by the stamp are "How long resident in city," the number of address in place of death, and mother's & father's birthplace. Although the last 2 numbers were unreadable, address named in death notice was 240 E. 30th, the residence of Eugene Fagan. Mary was not a member of Eugene's household at the time of the 1870 census.