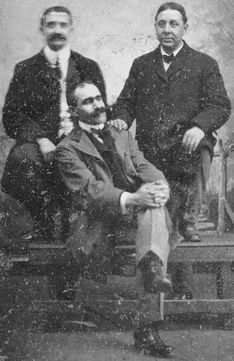 A tintype of Matthew FAGAN (front), with two unidentified men, probably taken during the 1880s.
The resemblance of the man on the right to Matthew's daughter Anna, suggests that he was a FAGAN or EGAN. Click for higher-res image.)

[home] [TREE] [Immigrants] [Irish origins]
Narratives: [John] [Eugene] [Edward] [Lawrence]
[Matthew 1] [Matthew 2] [Obit] [Baps/Births] [Children 1][& 2]
The Carlon family intro | part 1 | part 2-photos
---
FAGANS in MANHATTAN

My great grandfather Matthew Fagan was a younger son of Edward Fagan and Mary Caffrey, who raised a large Irish-Catholic family -- three girls and five boys -- in the townland of Barconney Grattan, Castlerahan parish, County Cavan, very near the border of County Meath. The Long Island Fagan family lore holds that four of the five brothers migrated to New York. Though nothing was said by our line about the parents or the girls, the Irish descendants remaining in Barconey Grattan remembered the parents emigrating or at least leaving Barconey. The Bridgeport Fagans had brief notes regarding two of the girls, who also immigrated and married.

This narrative is an attempt to reconcile the lore from both sides of the Atlantic with archival evidence. As of December 2002, the evidence continues to grow in different directions and the story is far from resolution. At the heart of it is the fact that many important Fagan dates were misremembered or misreported. A summary follows. For more, see Caffrey homeland

I have traced five of the boys' migrations to New York City during the 1860s, most of them around the age of 18. John, Eugene, Edward, Laurence and Matthew. All except John were blacksmiths, all named their first son Edward after their father and a daughter Mary after their mother. All five lived on the east side of Manhattan (Edward Jr., only briefly before moving to Bridgeport, Connecticut). Of these five, Edward's and Matthew's lines are represented here by descendants of the line, and we have personal ephemera from one of Laurence Fagan's lines: Rood->Santoro. The Santoro line has probably died out.

We also have confirmation of the immigration of Mary Caffrey Fagan, and dates that would suggest she migrated with her husband Edward around 1855, as the Caffrey story related, a few years after the birth of their youngest son, Matthew. This left Matthew (and the other younger siblings?) in the care of the Caffreys in Ireland.

Edward Fagan Jr's 1914 obituary mentions as survivors two sisters, Rose Carroll and Ann Seaman of New York, but I've been unable to locate them in census or death records. The fate of the remaining sister, Mary, remained a mystery until recently.

Mary (Fagan) Eason was born around 1830, probably immigrated around 1848, married Irish immigrant George Eason around 1852 and had at least eight children in Manhattan before moving to Norwalk, CT, where she died in 1909. Several of her children were buried in the non-Catholic cemetery Green-Wood in Brooklyn, where George's family had several plots. All known Fagan burials were at catholic Calvary cemetery in Queens. Did these protestant burials indicate a rift with the catholic Fagans? I note that Mary didn't show up as sponsor to any of the baptisms of Eugene or Matthew's children.

---
A few current avenues of research
Mary (Caffrey) Fagan Mary Fagan died in 1877 in her son Eugene Fagan's Manhattan apartment at 240 E. 30th Street. Her death certificate gave no positively identifying information (such as maiden name), but her obituary in the NY Herald identifies her as Eugene's mother and widow of Edward Fagan. She is buried in a plot in Old Calvary section 1s. This plot was purchased by Eugene Fagan at her death, but most of the burials in it were family members of Eugene's younger brothers, Matthew and Laurence. Currently, there is no gravestone marking the plot, and Mary's husband Edward Fagan was not buried there. Details

Edward Fagan Sr. We have found no evidence that Edward Fagan, Senior, immigrated to the U.S., but he may well have. He and Mary were not found in census and he was not listed in any of the family plots at Calvary or in Bridgeport.
Details

Mary Caffrey Fagan's 1877 death certificate states a 22 year span of life in the U.S. and 10 or 16 (difficult to read) years in the city before her death in Manhattan. I have found no certain directory listings and no census listings, but the information raises as yet unanswered questions.
- Were the dates accurate?
- Where did Mary live during those gaps? Where was Edward?
- Were the two timespans separated by Edward's death? (Did she live outside of NYC with Edward, then move to the city at his death?)
- Were they living with Ann or Rose -- one of the two daughters I've failed to track?

Warning: A family bearing statistical resemblance to the parents Mary and Edward, and a daughter, Mary Fagan, appeared in census in Islip, Long Island from 1860 forward. I mention this only to warn other researchers that this couple was not our Mary and Edward. They were still listed in 1880, three years after the widowed Mary (Caffrey) Fagan died in Manhattan.

The sisters. Two Fagan sisters Rose and Ann were listed as survivors in the junior Edward Fagan's obituary (1914, Bridgeport, CT). Their married names were given as Rose CARROLL and Ann SEAMAN. We know Rose Fagan was baptized in 1828, so she would have been 86 in 1914. Ann's birthday was unrecorded, but she would have been presumably at least 12 years younger than Rose. The sister Mary was not listed as Edward's survivor and indeed we know she died in 1909. Unfortunately, the Carroll and Seaman surnames have not surfaced again in any documents I have unearthed to date. The sisters were also not mentioned in their brother Matthew's obituary. One might suspect that they died between Edward's death in 1914 and and Matthew's in 1918, but this is not a safe assumption. Matthew's obituary did not mention any sibling survivors.

Our family notes also list a brother named Owen, but baptismal certificates of Eugene Fagan's children have confirmed that Owen and Eugene were the same person (Owen being a familiar name for Eugene). (see Eugene Fagan) One brother is said to have fought in the Crimean war, but to date I haven't found any supporting evidence for this. Edward Fagan of Bridgeport fought for the Army and Navy before and during the Civil War. (see Edward Fagan II)

John Caffrey. Family lore also says that Mary Caffrey's brother John (b. 1816) was forced to emigrate to the US after breaking local laws against hunting on a Sunday. I have found two candidates matching his profile, one living a few doors from Eugene, and another living in Sag Harbor for the 1860 and 1870 census, More info

There are suggestions that other related Fagans immigrated, but I have not connected them. The 1870 census for Bridgeport shows that Edward Fagan lived in the same building as a Patrick Fagan and family. The Bridgeport city directories show a Richard Fagan living with Edward's family in 1902. I have not followed these connections any further.

Mary O'Reilly/Reilly/Riley. In another coincidence of US/Cavan family lore, the Caffreys believe another Caffrey family member immigrated to New York City - a Mary O'Reilly. Five of the baptismal sponsors of Eugene's and Matthew's children were named Reilly or O'Reilly or variants. Two to an Eliza or Elizabeth O'Reilly. Three to Mary Reilly, Mary Ann Reilly and a Mary Riley. Fagan births and baptisms

The Carlons. Research on the CARLON line who lived in Brookfield, Linn County, Missouri has suggested that our family had two ties to them. Anna (Fagan) Fenton was engaged to Judge William Carlon, probably prior to her 1915 marriage to Mike Fenton. It is also probable (though not proven) that the Carlons were cousins of the Bridgeport Edward Fagan family, the tie being Edward's wife Annie Golden. More about the Carlons