Although our great Aunt Anna was close to Laurence Fagan's descendants, we know of his activities only through public records. Laurence came to Manhattan around 1862 (or so his death certificate asserts), setting up as a blacksmith in the area around East 50th street. By the time of the 1870 census, Laurence and his Irish-born wife Kate had four children, none of whose births were recorded with city officials. They were Edward (b. ca. 1864), Katy (aka Catherine Helen, b. ca. 1866), Laurence (b. ca. 1868) and Thomas (b. Nov 1869).

Laurence's wife Catherine died in Bellevue Hospital Aug 8, 1875 of injuries suffered three days before in a fall or jump from a 4th story window at 338 E. 48th Street. Unfortunately, the death certificate gave no details, and referred to a pending inquest, the transcript of which is very likely no longer in existence.

Catherine was 38 at death, and we know no more about her than the 1870 census provides--not even a maiden name. Calvary, the place of burial listed on her death certificate, has no record of burial. It is conceiveable that she was denied burial as a suicide, but that is speculation. perhaps because of the Catholic prohibition against the burial of a suicide in consecrated ground. I was unable to find an alternate burial place. Her daughter Kate's 1902 death certificate, perhaps significantly, names her mother as Mary, the woman who was became her step-mother. Little Kate was only 9 years old when her natural mother died.

In 1877, two years after the death of his first wife and two months after his mother's death, Laurence remarried. His second wife was Irish immigrant Mary Dwyer. It was Laurence's Sept. 30, 1877 marriage at St Agnes Church, 143 E. 43rd st that provided the certificate on which his parents (Edward Fagan and Mary Caffrey) were named. This certificate confirmed Laurence's tie to Matthew, Edward and Eugene.

Mary Dwyer bore Laurence's last confirmed children, Charles (b. Jul 28, 1878) and Mary (May 6, 1880). Though daughter Mary was born in May, she wasn't listed on the 1880 census which took place one month later. However she was not listed in death records nor was she buried in a known family plot. There is no reason to believe Laurence and Mary had more children, but no way to confirm it.

Laurence's second marriage lasted just short of 10 years. On Jun 8, 1887, at the age of 46, and with at least two young children, and several more older children, he died of phthisis pulmonales (tuberculosis) in the charity hospital on Blackwells Island. This was after a 6-week stay. His residence at the time was 815 1st Avenue, near 50th-51st Streets. His brother Eugene provided a resting place in the form of a Calvary plot, purchased by Eugene in 1877 at the death of their mother, but used almost wholly for his siblings' family burials.

A puzzling issue only partially explained by the odd dating of city directories is that fact that Mary Dwyer Fagan's widow listing appeared a year too early. A "Mary, wid Lawrence", showed up at 492 1st ave in the 1886 and 1887 Manhattan directories. (a few blocks from Matthew's residence.) For the listing to be consistent with the true dates, they must have been compiling the 1886 directory in the middle of July 1887.

In comparison to Eugene's family, Laurence's family maintained a low profile. I've tried for several years to track his widow and children beyond the 1880 census, but have only succeeded in tracing his daughter Catherine Rood to her death in 1902, and his son Charles from 1900 until his disappearance from the Long Island City records in 1908. Charles moved in with his Uncle Matthew.

Laurence was categorized as a non-citizen on the 1870 census, and I have found no likely naturalization record for him. It's entirely possible that he died a citizen of Ireland.

---
Laurence FAGAN, b. Oct 2, 1840 Barconey Grattan, d. Jun 8, 1887 Blackwells Island, bur. Calvary
& Kate (--?) FAGAN, b. ca. 1841, m. ca. 1863 Manh., d. 1875 Manh, burial place unknown
|-- Edward FAGAN, b. 1863-64 Manh., d. ?
|-- Catherine (FAGAN) ROOD, b. 1865-66 Manh., d. Oct 4, 1902 Manhattan, bur. Calvary
| & Walter ROOD, b. ca. 1845 MA, m. ca. 1883 Manh.?, d. bef 1902 Manh.?
| \-- Elise (ROOD) SANTORO, b. Jun 28, 1884 Manh., d. Oct 25, 1948 Los Angeles
| & George SANTORO, b. May 23, 1878 Italy, m. May 5, 1912 Paterson, NJ, d. Jul 24, 1978 LA
| \-- George Joseph SANTORO Jr, b. Sep 14, 1913 Paterson, NJ, d. Aug 27, 1983 Burbank
| & Gracye (---?), b. Dec 3, 1905 MA, m. ca. 1943, d. Sep 6, 1964 Los Angeles
| & Marie Joan GABELIC, b. Aug 26, 1925 CA, m. Mar 19, 1965 CA, d. Jan 2, 1993 Los Angeles
|-- Lawrence FAGAN, b. 1867-68 Manh., d. aft Jun 9, 1880 NY?
\-- Thomas FAGAN, b. Nov, 1869 Manh., d. 1870-80? Manh.
& Mary (DWYER) FAGAN, b. 1844-45 Ire, m. Sep 30, 1877,St Agnes Ch., Manh.
|-- Charles FAGAN, b. Jul 28, 1878 Manh., d. aft 1908
\-- Mary FAGAN, b. May 6, 1880 Manh., d. aft May 6, 1880
---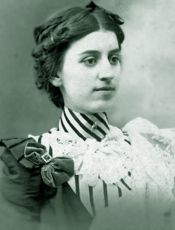 Elise ROOD SANTORO ca. 1905?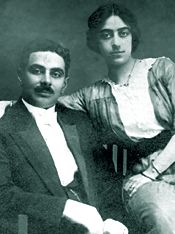 George Santoro Sr. & Elise ca. 1910

Also buried in Eugene Fagan's "extra" plot was Catherine (Fagan) Rood, Laurence Fagan's oldest daughter and the mother of Elise (Rood) Santoro (b. 1883 at 160 E 48th Street). At the time of Elise's birth, Kate was 17 and her husband Walter Rood, a conductor, was 39. I'm not aware of any other children in that family, but there is no reason to think Elise didn't have siblings. I simply have not come across them in records. Kate Fagan Rood died on Oct 4, 1902, age 35, at 89 W. 103rd St. of an uncommon form of TB: Miliary Tuberculosis. Her death certificate lists her as a widow, but I have found no trace of Walter Rood's death.

After (or perhaps before?) her mother's death, the 18 year old Elise moved to Long Island City and lived with her great uncle Matthew, probably, as one of the family. The fact that Matthew's children lost their mother two years before Elise did was undoubtedly a bonding factor. Elise's mother's step-brother Charles Fagan was already living with Matthew, et al. Although Charles was Elise's uncle, his age, only 4-5 years old than Anna and Elise, would have positioned him as a peer. I've found Elise's name on Anna's event programs from that era and and Elise served in 1912 as witness to her cousin Edward J.'s first marriage.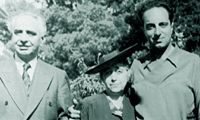 Santoros, late 1940s
---
Obit-George J. SANTORO, (Los Angeles: Variety, Sept 7, 1983; d. Aug 27), reprinted in vol 9, Variety Obits
Article-1972- "George Santoro: the quiet style in tinsel town", Broadcasting, vol 82, pg 63.

Elise Rood married George Santoro Sr. in 1912 in Paterson, NJ and they had only one child: George Jr. The Santoros maintained relations with Matthew's children Anna and Thomas. They supplied Jack Fagan with foreign stamps sent to George Sr. by friends in Italy. and made visits to the Freeport Fagans until the early 30s, when they departed for Los Angeles. Uncle Rob remembers the whole Fagan family crowding into a futuristic telephone booth at the 1939 World's Fair and ringing up the Santoros in California.

Among Anna's photos were roughly 60 years worth of portraits and snapshots of Elise, George, George Jr. and and Mrs. George Jr. Unfortunately, that trail ended in 1962, with Anna's death, and the connection was not maintained by anyone now living.

It took me three or four years to work out the relationship between Elise and our family. Her appearance, which struck me as Italian, led me astray. It didn't occur to me that she might be the daughter of a wholly Irish mother and an American-born father (presumably of German or English extraction), yet that appears to be the case.

In fact, I managed to trace George, Elise et al, long after their deaths. In 1934, after George Jr.'s three years at Fordham, the family left Paterson for California. On arrival in LA in 1934, George Jr. found work at 20th Century Fox. From there he went to Republic Studios (1939-56) and then to ABC-TV during the 1960s. He joined Universal Television around 1966 and at the time of his death in 1983, was a vice president. His wife died in 1993.

Elise herself died in 1948, in Los Angeles, at the age of 64, and I believe her line died with George Jr's death. Although I haven't certified it, I believe George Senior lived to be 100 years old, dying in 1978.

Next section About Matthew