HOGAN FAMILY IN NEW YORK CITY
OVERVIEW


Hogan Overiew | Tree 1 | Tree 2 | Tree 3 | Part 1 | Part 2 | Part 3 | Part 4 |
---
After several years of research, and a few scattered lucky breaks, the early life of our HOGAN family in New York City is still very much in the dark. The HOGAN line, as we know it, was a union of at least four famine-era Irish migrations: Patrick HOGAN (Clare (?)) and Catharine DONOHOE/HUE (Tipperary), both immigrated during the height of the late 1840s famine. Their children Thomas and Anna married US-born children of famine era immigrant MCGRATHs (home county unknown) and MORGANs (County Down), and the pilgrim era English line HANDY. See brief descendancy charts and fan charts for these lines. Because the Patrick Hogan line is the most developed, I am currently writing narratives about their lives. I intend to add similar material about the other lines as I find time to summarize it.

---
Patrick Hogan

We know that our progenitor, Patrick Hogan, was born around 1825, probably in County Clare (or less probably, County Cork). He probably came to the New York City area around 1846-47. He married Catharine Donohoe (b. c1828), also a recent immigrant. Catharine's parents and several siblings arrived from Tipperary, also around the end of the 1840s. The couple had six known children -- three daughters and three sons -- born between 1849 and 1866.
A biographical narrative about Patrick and Catharine


---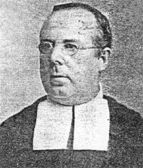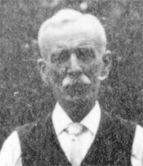 Left: George W. Hogan, Brother Albran Edmund, ca 1890s(?)
Right: Thomas Francis Hogan, ca. 1913

The Children of Patrick and Catharine Hogan

Patrick and Catharine's oldest and youngest sons, George and Richard, became Christian Brothers. Their lives are well documented by the order.

The only son to continue the Hogan name was my great grandfather Thomas Francis Hogan, born in 1851 (probably in Manhattan). Thomas married Brooklyn native Mary Ann Handy, the descendant of an English HANDY and Irish MORGAN line. Thomas and Mary Ann Hogan had six children before they died in the Borough Park section of Brooklyn, Mary Ann in 1927 and Thomas ten years later. Descendant surnames are Hogan, Fagan, Cummiskey, Hallam, Quinn, Cantanno, Picco, Sullivan, Kean, Miller, Rais, Brown, Roche and others.
The beginnings of a biographical narrative about Thomas F. Hogan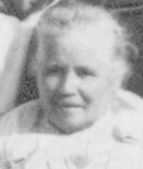 Anna Hogan McGrath, taken ca. 1915

Patrick's oldest daughter Anna Hogan, was born during the mid 1850s, possibly in Whitestone, Queens, but more likely in Manhattan. On Feb 19, 1887, she married James McGrath in Hackensack, had one child in Manhattan, then moved to Hackensack and had six more children in nine years of marriage. Widowed in April 1896, she kept her family together by taking in laundry. There was other help from her brothers: Thomas Hogan purchased the house the family lived in and George Hogan (Christian brother Albran Edmund) sent care packages of produce and live poultry from Maryland.

Anna survived her husband by 29 years, dying in Hackensack in 1925. James and Anna are buried together at St. Joseph's Cemetery in Hackensack. Descendant surnames are McGrath, Nicolaus, Becker, Manahan, Conger, Eisgrau, Joyner and others. Anna's in-laws, Thomas McGrath and Mary Howard, probably immigrated separately, met and married in the U.S. Mary gave 1845 as her date of immigration on the 1900 census. Daniel died in 1896 and Mary in 1903. They are also buried at St. Joseph's.

The youngest Hogan daughter Maggie (b. Manhattan, 1862) may have survived and married, but I've found no clues relating to her life beyond 1880. I suspect her sister Kate (b. ca 1858-59, place unknown) did not survive long after the 1880 census.

It is my plan to post narratives on Thomas, Anna, George and Richard Hogan. The Thomas Hogan line also includes a pilgrim-era English immigrant in the person of Richard HANDY who was in the founding party of the town of Sandwich, Massachusetts. There were many, many English immigrants in this well documented line, which I will not attend to here.

---
The DONOHOE / DONOHUE / O'DONOGHUEs from Tipperary

In contrast with the Hogan line, the DONOHOE/HUE line was fairly visible at first, but I was able to trace only one of Catharine's siblings to his 1901 death. In fact, John Donohue briefly disappeared from the records during the 1880s and 1890s, my research drying up for several years. Thanks to the Brooklyn Eagle online search, I discovered that the Donohues did not disappear at all, but simply began to use the surname O'DONOHUE (and sometimes O'DONOGHUE) during the 1880s. Once I knew where in the alphabet to look, they came into focus.

The family -- my great(3) grandparents Philip (c1788-1855), his wife Catherine (O'BRIEN) (c1795-1866) and several Donohue children, amongst them my great(2) grandmother, Catharine Donohue Hogan -- migrated during the late 1840s from County Tipperary to Manhattan. Whether the Donohues immigrated en masse or in small groups, I don't know. While Tipperary is confirmed by three sources (two baptismal, one death certificate) we have no idea what townland, parish or city within Tipperary they hail from. Father Philip and his son John were carpenters. It appear John was the most prosperous of the siblings running a carpentry shop and in the Greenpoint section of Brooklyn for a good forty years beginning around 1852. He also owned several plots of land in Greenpoint.
I plan to write a narrative on this line, and it will appear here when I have it in draft form.

---
The HOGAN/MCMAHON connection

We don't know if Patrick Hogan entered the U.S. by himself or with family. We do know that he was acquainted with a Manhattan shoemaker named George B. Hogan, that in fact the two of them vouched for each other in their naturalization proceedings (in 1857 and 1866). I have found no proof that George and Patrick were brothers, but if we can eventually prove a connection, we gain a significant genealogical advantage. This is because George B. Hogan's home parish is known: O'Briensbridge, County Clare, and this would also be Patrick's.

Two factors argue for some kind of relationship: the naming patterns in Patrick's and Thomas' family and George and Patrick's continued acquaintance over a span of 9 years, a time in which (it appears) they lived nowhere near each other.
O'briensbridge parish page at Clare Library

To thicken the brew, George B. Hogan was linked with another Hogan -- a woman in his own age group -- by virtue of the fact that they were buried together in a family plot. Annie Hogan McMahon was born ca. 1834. She immigrated ca. 1856-57, and in 1863 married a Civil War veteran named John R. McMahon. There was no offspring of this union, but Annie did receive a widow's pension. That George and Annie Hogan are buried together strongly suggests a close relationship. But were they siblings? We don't know.

Finding evidence that George and Annie were also related to Patrick will be difficult, but if we ever succeed in tracing our Irish Hogan ancestry, George B. Hogan will be the most likely conduit.

There was another possible Hogan sister, Catherine, who married a James Scott and had a son named John Joseph Scott. Catherine was apparently widowed and then, in 1869, married Civil War veteran Andrew R. McMahon, who was born in either County Limerick or the East Indies(!) Like Ann Hogan McMahon, Catherine outlived her second husband and received a Civil War widow's pension. Nearly every piece of evidence connected with Catherine is contradicted by another piece of evidence. Various documents imply that this Catherine and Annie McMahon were sisters born Hogan. One implies that they were sisters-in-law. Contradictions are so prevalent that I have considered the possibility that I am dealing with two women. Then there is the question as to whether John R. and Andrew R. McMahon were related. It appears to be a coincidence that they both married Hogan women.

One of the most puzzling offshoots of the Catherine McMahon story involves the will of Catherine McMahon's son John J. Scott. When Scott died in 1920, he left $5000 to Rev. Thomas J. McCluskey, once president of Francis Xavier High School on W. 16th Street and of Fordham University. The bequest requested that Rev. McCluskey dedicate a chapel as a memorial to Scott's mother and aunt in (of all places) Bermuda. Scott's lawyer in all this was Francis Hogan (a former student of Xavier College and Fordham Law School). I have not established a relationship between Francis Hogan and any of the other Hogans.

Because the HOGAN/MCMAHON lines may some day carry the key to the HOGAN homeland, I plan to write narratives about them. Because they are terribly complicated, they will probably be the last to be so honored.

---
The MORGANS

My great (3) grandmother Anna (McGow) Morgan (c1800-1884) immigrated with several of her daughters in 1849. It appears that her husband Patrick Morgan immigrated earlier with their son John. We first found the couple and some of their children living in Williamsburgh, Brooklyn at the time of the 1850 census. Patrick died between 1852 and 1857, leaving Anna widowed by the 1860 census. Anna lived on another 30 years, dying in 1884 at her daughter Ann Ward's residence in the Williamsburg section of Brooklyn. She was buried in the Ward family grave in Holy Cross Cemetery. Anna's death notice in the Brooklyn Eagle identiried her place of birth as County Down, Ireland.

While I lost track of some of the Morgan offspring, I have traced three daughters and one son who settled in the Williamsburgh/ Bushwick area of Brooklyn. These four Morgan families have descendants:
HANDY: Daughter Mary Morgan (c1832-1896) married Henry HANDY (1828-1913), a man of English extraction and Massachusetts roots. These are my great(2) grandparents. Only two of Mary and Henry's children had issue.
Their son Frank Handy (aka William F. Handy) married Irish immigrant Theresa DOWD. I am aware of descendent surnames HANDY, CONNORS, PARADINE, LAWRENCE and DICKIE, but there are undoubtedly others.
Their daughter Mary Ann Handy married Thomas Hogan. Some descendant surnames are HOGAN, FAGAN, CUMMISKEY, HALLAM, QUINN, CANTANNO, MCNELIS, PICCO, SULLIVAN, KEAN, MILLER, RAIS, BROWN, ROCHE. A few of these families stayed in Brooklyn but after the 1920s some migrated to Long Island.
MORGAN: Son John Morgan (b. c1836, d. 1899) married Irish immigrant Rosanne Doyle in 1866 at Ch of the Immaculate Concep., 72 Maujer St. He remained in the Bushwick /Williamsburgh section for the rest of his life. In the span of 10 years, John and Roseanne had four daughters, three of whom died before Roseanne herself died in 1876. I believe Roseanne's daughter Ida was the only survivor of this marriage.
In 1879, John remarried Irish immigrant Margaret PRAY. They had at least one daughter Catherine, who died in infancy. The 1892 census also names four MORGAN toddlers living with this couple, However those children were not in Maggie's 1900 census and were not buried in the family plot, so I question the accuracy of this 1892 listing. John died in 1899 at the age of 61, and his second wife died two years after him.
I believe John was survived by only one child: Ida (MORGAN) HIGGINS, but Ida had two marriages and many descendants. Known surnames are HIGGINS, MCGRAIL, LOGAN, SMITH.
WARD: Daughter Ann Morgan (c1839-1897) married Brooklyn native James M. WARD. I am aware of the descendant surnames names SIMON, WRIGLEY, MARA, TRAUB, MEINBERG, STONITSCH, AHRINGER, WARD and MCHENRY.
WORTH: Daughter Theresa Morgan (c1841-1914) married Jacob WORTH, a Prussian-born Brooklyn politician. Although they had several children, only one son (Louis R. Worth, 1872-1939) lived to have offspring. His daughter, Elvira Worth married a George W. Hogan (not related to the other Hogans connected to the Morgan line) Descendants surnames are HOGAN and WARREN.
---
Other Names

The lost stories in the HOGAN saga belong to Maggie Hogan, daughter of Patrick, the collateral lines of Patrick Hogan's siblings and Catharine's DONOHUE's siblings.

As is common in most genealogical research, the most profoundly lost are the female lines, lost when the women assumed new surnames and the researcher uncovers no record of the union. A researcher digs through wills, land records, baptismal, death and marriage indexes hoping for a glimpse of unknown -- but possibly connected -- surnames. Our most significant lost line is Maggie Hogan, youngest daughter of Patrick and Catharine, so there is a strong urge to try to connect each new surname with her profile. Thus far, Maggie Hogan has eluded capture.

In our Hogan research these names stand out as providing collateral connections -- or potential collateral connections. Research has proved some of these names to be unrelated to the Hogans.

MCCAFFREY An Annie McCaffrey was Gus Hogan's other baptismal sponsor. Because Louis Worth was on the maternal side, tradition (assuming traditions were followed) would made the other sponsor paternal side. Francis Fagan remembers a Bernard McCaffrey who may have been some sort of relation. But beyond that, this line of research has dried up. The name is too common to proceed without a lucky break. It may turn out to be a MORGAN, DONOHUE or HOGAN connection -- or none at all.

OTHERS
In 1862, a Walter SHANNON was Maggie Hogan's baptismal sponsor, with Anna Hogan as the other.

In 1866, Mary Ann MCINTIRE & Michael SMITH were Richard Patrick Hogan's baptismal
BROWN is a possible surname for Patrick Hogan maternal line (per possible HOGAN/MCMAHON) connection.
---