HOGAN FAMILY IN NEW YORK CITY
Thomas Francis HOGAN - Part 1


Hogan Overview | Tree 1 | Tree 2 | Part 1 | Part 2 | Part 3 | Part 4 |
Thomas Hogan Part 1 | Part 2 |
---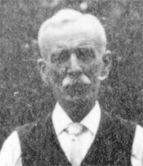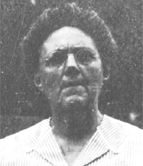 ca. 1913. The earliest photos we have of Thomas Francis Hogan and Mary Ann Handy.

These were details from a group photo. See full photo.

EARLY YEARS
Thomas Hogan was born during the prehistorical era of his family's life in New York City. His birth is unrecorded, I have not located a baptismal or marriage record for him, and he didn't appear on a census listing until 1870, when he was 19 years old.

His date of birth was listed at his time of death as February 10, 1851. Though birth information as recorded on death certificates is usually suspect, Thomas gave his age fairly consistently throughout his life, and I tend to believe this date. It is only supposition that he was born in and lived his first years in lower Manhattan, but suppose we do.

His first known association (as remembered a century later by Thomas's youngest son Gus) was in roughly 1865. Thomas was in his middle teens when he was in the first choir at St. Paul the Apostle Church on the upper east side of Manhattan, at 415 W. 59th Street. At the time the choir was established, Thomas' family lived at 8th Avenue between 63rd and 64th. While we don't know a proper address, it was their first certified location.


May 12, 1914. Excerpt, letter from Thomas Hogan to son Gus
"Am glad you propose to show your patriotism as your sister does & that when the country calls for you, or her, or both, you will be "on the job" & follow the lead of your grand- father as well as myself for volunteering your services for a good cause. I refer to myself inasmuch as I offered myself to the country during the civil war but was rejected on account of age but did the next best thing & volunteered as a fire- fighter & was accepted & feel now that if the government would accept my services at any time they can have them."





It was at that time that Thomas began another life-long association--that of fire fighter. See excerpt from letter, right, which refers to local service during the Civil War. I suspect this was always volunteer unpaid service for Thomas rather than as a paid member of an established NYC or local fire department. These "volunteer" forces were well established and in fact I believe many of the workers were drafted. We have in our family documents certifying individuals' exemption from further service after a prescribed number of years on the force.

Thomas' first appearance on an official record occurred with his family on July 1, 1870 in Astoria, Long Island City, Queens County, New York, where his father had purchased a plot of land in 1867. [transcription of census entry] Thomas, age 17 (actually 19, if other records are correct), occupation coachman.

---
MARRIAGE
In roughly 1874-75, Thomas started his own family. He met and married Mary Ann Handy, who was born in Brooklyn to Irish immigrant Mary Morgan and her husband Massachusetts-born Henry W. D. Handy. Thomas' in-laws lived in Williamsburgh, an area of Brooklyn not far from Long Island City. This was not exactly the Hogan family's first association with Brooklyn. Catharine Donohue Hogan's brother John had been an established carpenter in Greenpoint (just north of Williamsburgh) since the 1850s.

We don't know exactly when Thomas married, though the federal census taken in June 1900 reports 25 years of marriage. Neither marriage or children's births were record by civil authorities so true dates are not known. Their first child, Mary Frances (later known as Mamie), was reportedly born in April 1875 but we don't know where she was born. The 1880 voter registration list finds Thomas living at 75 Debevoise Street in the Williamsburgh section of Brooklyn, and he reportedly lived for these spans:
- 29 year in country and state
- 10 years in Kings County
- 6 months in Ward 16
- 6 months in the local election district
If these numbers are accurate, we know Thomas left Queens for Brooklyn shortly after the 1870 census but don't know for certain where he lived in Brooklyn until 1880.

The federal census taken Jun 9, 1880 shows the family living at 75 Debevoise, just one block from Mary Ann Handy's family. I note that Thomas' mother and younger siblings also lived fairly close by at 342 Bushwick Avenue.
(Reel #850, ED 154, sheet 30, stamped page 437b line 33, dwelling 134, family 337.)
Thomas HOGAN, 28, laborer, IRE/IRE/IRE (* should be NY/IRE/IRE)
Mary A., 22, NY/IRE/IRE (* should be NY/Mass/IRE)
Mary, 5, NY/IRE/NY (* should be NY/NY/NY)
Kate, 3, NY/IRE/NY "
George**, 1, NY/IRE/NY "

---

* Places of birth are for self/father/mother. Some are erroneous. Thomas b. in NY, not Ireland. Mary's father born in Massachusetts, not Ireland.
** The first boy was named George (Thomas' older brother's name), while tradition would have named the first boy Patrick, after Thomas' father. This could imply a rift with his father, an early death of a first son, or perhaps simply a disregard of tradition. I also have an unproven theory that Patrick Hogan's father's name was George.
Thomas took out listings at 75 Debevoise from 1881 through 1883, always as an unspecified laborer. It was at this address that the Hogans' 5-year old daughter Catherine died of pneumonia on July 4, 1882. She was buried at Holy Cross (grave unknown) to be disinterred the next April, her remains moved to the site of a newly purchased family plot. Catherine's death certificate states that 75 Debevoise apartment was a 4-family house and that the Hogans lived on the 3rd floor.

The 1885 Brooklyn directory shows Thomas living at 77 Cook Street, a block away from his Debevoise St. address. 77 Cook was also an address at which his father-in-law Henry Handy was listed between 1879 to 1892, though not continuously.
I believe this portrait may be of Gus Hogan, born January 1888. If so, this would be the earliest Hogan portrait in our family's possession, and one of only two Hogan photos taken before ca. 1913.





That he was with his in-laws in 1885 and again with his widowed father-in-law in 1900, several miles away in the Borough Park section of Brooklyn could suggest that the Hogan family remained near the Handys, leaving Williamsburgh when the Handy family moved after the 1896 death of Mary Ann Handy's mother.

However, the only other certified address we have for Thomas' family in the 12 year period from 1886 to 1898 is in Greenpoint, about 2 miles north of Cook Street. The 1886 city directory lists Thomas Hogan as an "electrotyper" living at 311 Eckford Street. This is far from the Handys--a clean break. It was at 311 Eckford that the Hogans lost their second child, 2-year old Richard Hogan, who died of membranous croup on March 27, 1886. The death certificate states that they lived on the 3rd floor of a 5-family house. Richard's interment would be the last burial in the Hogan plot at Holy Cross until his mother's death forty-one years later.

It is likely that Richard was named after his father's youngest brother Richard Hogan (Brother Edmund Francis), who, coincidentally, died in a monastery in Westchester County about three weeks before his young namesake's death in Brooklyn. The gravestone, evidently inscribed after 1927, reads:
HOGAN
1857 MARY A. 1927
1876 CATHERINE 1882
1884 RICHARD F. 1886
1875 MARY F 1931
1851 THOMAS F 1937

I have substantiated only one other Hogan event during that span, and for this we have no family address: the baptism of the last child, Augustine, on Jan 22, 1888. This took place at St. Cecilia's Catholic Church at 84 Herbert St., also in the Greenpoint section of Brooklyn. The sponsors were Louis R. Worth (1st cousin, on the Handy side), and Annie McCaffrey who is unknown to us, but by tradition should have been from the Hogan side. Unfortunately, no addresses were listed on the baptismal certificate and no other Hogan baptisms were registered St. Cecilia.

Thomas and Mary Ann Hogan had a family of moderate size for the era. They had six known children over 13 years, four of whom survived to adulthood. Mary's childbearing span was roughly between the ages of 19 and 31. As far as I can tell, none of births were registered, and most ages were unevenly reported on census. Supporting my suspicion that Thomas' children's births had no civil registrations, is the fact that Gus Hogan wrote to St. Cecilia's Church for his baptismal certificate during the 1950s, when he needed proof of birth as he applied for a passport. This would not have been necessary had his birth had been recorded. However my best guess as to dates are the following:

Mary Frances (Mamie) HOGAN, b. Apr 1875?, died 1931 Brooklyn, age 56
Catherine F. (Kate) HOGAN, b. 1876-77, died 1882, age 6
George W. HOGAN, b. Nov 4, 1878?, d. 1945 Brooklyn, age 66
Joseph A. HOGAN, b. Mar 14, 1883?, d. 1944 Brooklyn, age 61
Richard F. HOGAN, b. Mar 12, 1884, d. 1886 Brooklyn, age 2
Augustine Leo HOGAN, b. Jan 14, 1888, d. 1976 Freeport, age 88

Three sons (George, Joe and Gus) would go on to have families, continuing the Hogan name for one more generation.

---
SPECULATION ABOUT THIS PERIOD
Where were the Hogans during the 1885-1900 period? Here are a few isolated clues.

• A mention of minor significance: the Saturday Oct 27, 1888 L.I. Weekly Star (Long Island City) ran an obituary for John Delahanty, an Astoria firefighter born in Thurles, Tipperary. The Delahantys would have been neighbors of the Hogans, living just a block or two from them in Astoria during the 1867-71 period. Among the pall bearers (many of them firemen) was a Thomas F. Hogan, who may or may not have been ours.

• The Handys: Did the Hogans live near the Handy family? Possibly, but while Henry Handy placed listings routinely in the Brooklyn city directories, Thomas did not. Henry and family appeared in the 1892 NY State census at 77 Cook St. but the Hogans were not living with them. The Handys migration from Williamsburgh/Bushwick took place after the death of Mary (Morgan) Handy's 1896 death. In the 1897 directory, Henry Handy's name first appeared at 59th nr 11th av, in Borough Park.

• As a girl, I remembered Gus Hogan telling stories about his childhood in Brooklyn. Though I can't recall his placing stories in time, two stories placed him geographically -- to some extent. One, he mentioned taking the Myrtle Avenue L to the end of the line, where they would buy cakes for a penny. This would probably place them near the Williamsburgh area, at least for some of the "remembered" period of Gus's childhood.

• Two, Gus recalled that his father was the caretaker of a park in Brooklyn, and the family lived in a large house on the park grounds. Further, he and his brothers helped his father with the more menial tasks. We assumed he meant Prospect Park. I'm not sure if he ever mentioned Prospect Park, or whether we just assumed this, because it was the only Brooklyn park that we (as non-Brooklynites) knew of. That his brothers were involved would place this era earlier than ca. 1905-1906, when Joe and George probably married.

We know that since at least 1898, when the City of Brooklyn was consolidated into the City of New York and NYC began keeping records on city employees in all the newly absorbed boroughs, Thomas was employed by the Parks department as an "inspector." In this context, I believe inspector was synonymous with caretaker or foreman.
I have found no supporting evidence for life at Prospect Park, but this we do know: in 1914 Thomas was connected with McKinley Park, a small park near Bay Ridge. But this was long after the family emerged from the shadows, and we have no idea how long he had worked there.


---
Part 2 Thomas Hogan |

---