RICHARD HANDY Gravestone, Sandwich, Massachusetts
I photographed the gravestone of my great(6) grandfather Richard HANDY in June 1998, at the Old Burying Ground (aka Old Town Cemetery) in Sandwich, Barnstable, Massachusetts.

Richard, who was born in England ca. 1637, was the progenitor of most HANDYs in colonial Massachusetts. His parents, his English place of birth and his immigration date are not known, but he was first mentioned in public records of Sandwich in 1664. The best source of information about his life in Sandwich is an extended article in the New England Historic Genealogical Register, volumes 124-6, 1971, by Lydia B. (PHINNEY) BROWNSON, of Plymouth, MA and Maclean W. MCLEAN, of Pittsburgh, PA. A few other sources are listed below.
The cemetery is on Grove Street in the well-preserved historic district of Sandwich. The grounds are carefully maintained, and the burial register, compiled between 1907-15, can be found at the Sandwich Public Library and the Sandwich Archives, both nearby.

The records include a 1908 gridded map of the grounds, with coordinates ranging from A-F (left to right when facing the grounds from Grove Street) and 1-11 (front to back). No plot locations are shown, but the individual burial listings are keyed to the map coordinates.
I've included a small representation. Unfortunately, without the burial listings the map is not helpful in locating other graves .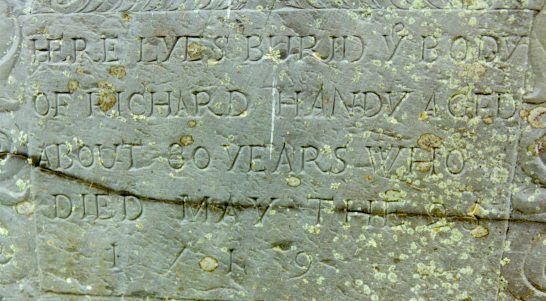 Inscription:
HERE LYES BURID Y BODY / OF RICHARD HANDY AGED
/ ABOUT 80 YEARS WHO / DIED MAY THE 25 / 1719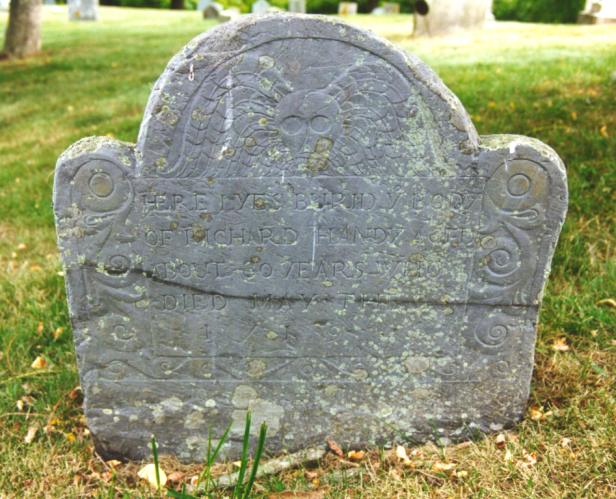 Though the HANDY name appears only once in the Burial Ground records, there is also a footstone a few feet away, flush with the ground, bearing only the name RICHARD HANDY. Whether this was for Richard or one of his descendants, I don't know. My nephews searched the cemetery for other HANDY stones but found none.

The stones are easily found. They're beneath a large tree at location D6 which is slightly right of the center of the cemetery.
---
A brief bibliography
Richard HANDY of Sandwich Mass, Lydia B (Phinney) Brownson, Plymouth, MA & Maclean W. Maclean of Pottsburgh, PA. -NEHGR, v 24, 25, 26 (Boston MA: NEHGS, 1971-2).
Handy Family-Descendants of Richard of Sandwich Mass, Ella May Lewis (Mrs Seth Ames Lewis) NEHGS cat# G HAN 500 (Springfield, Mass: self-published, 1925).
History of Barnstable County, Massachusetts, edited by Simeon L. Deyo, (NY, H.W. Blake & Co. 1890)
Sandwich, a Cape Cod Town, R.A. Lovell Jr. (1984), has several mentions of Richard Handy.
Records of Old Burying Ground, Sandwich, Mass, gathered and compiled by Ella Frances Holway, curator of the Historical Society from 1907 to 1915. Sandwich Public Library, (also on FHL US/CAN Film# 947061 Item 1)
Various publications listing pre 1850 vital records in the towns of Sandwich, Falmouth, and many others, (Boston, New England Hist/Genealogical Soc., various dates) Many of these collections are indexed in the IGI.
I have seen several Richard HANDY genealogies on the internet that provide extensive material beyond the direct line of the creators of the files. I suggest that people carefully check material that they find on the internet before integrating it with their own. I've personally found misinformation on the internet about my own HANDY line (Sandwich->Lee, Berkshire, Mass.->New York). Our HANDY descendancy chart
And a commonly repeated error, one that has been in the IGI for many years, names a Hannah ELDERKIN as our Richard HANDY's wife. In fact, the surname of our Richard Handy's wife is not known. This is a confusion of our Cape Cod Richard HANDY, with a man of the same name who settled in Norwich, Conn, and who did indeed marry a Hannah ELDERKIN. Google Books has recently added History of Norwich, Connecticut: From Its Possession by the Indians, to the Year 1866 by Frances Manwaring Caulkins. This book describes the ELDERKIN/HANDY couple on Page 178
---
For those using search engines to locate SURNAMES
here are our family's known connections