HOGAN FAMILY IN NEW YORK CITY
Patrick & Catharine HOGAN - Part 3 - Queens County


Hogan Overview | Tree 1 | Tree 2 | Tree 3 | Part 1 | Part 2 | Part 3 | Part 4 |
---
ASTORIA, QUEENS COUNTY, LONG ISLAND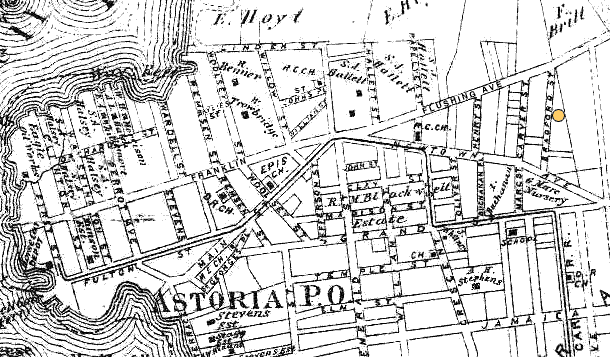 1873 map shows Astoria, Queens County, New York. The site (roughly) of the Hogan's property on the southeast side of Bradford Street is marked with a gold circle. On a modern map, Bradford would be the one block of 31st Street between Newtown and Astoria Blvd.


We skip forward to Dec 30, 1867, when a land deed in Astoria, Queens County, was drafted. In it a Patrick Hogan took possession of a plot of land on the south easterly side of Bradford Street for the sum of $240, paid to a man named Stephen Higbie. The deed was recorded in the Queens Land Register on July 2, 1868 and presumably the family inhabited the property soon after. As was standard in land records, no mention is made of an existing dwelling or of prior address of the grantee.

Was this our Patrick? On July 1, 1870, at long last, we find the Hogan family in a federal census--to my knowledge the only census appearance by Patrick Hogan. This census listing confirms that the Patrick Hogan in the Queens land records is indeed our ancestor. Though the 1870 census listed no addresses, the Hogans appear a few pages after another of my ancestral families, the Flanagans, who lived on 2nd Avenue. The Hogan's Bradford Street was a northern extension of 2nd Ave. Furthermore, the census lineup is unmistakeable, matching the ages of known children within a year or two.
A transcription below. In square brackets, I have added ages known from other sources that this listing contradicts. In truth we don't know when Thomas, Kate and Anna were born.
Astoria, Queens, New York, reel# 1080, page 175, dwelling 249, family 330
- HOGAN, Patrick, 45, Stone mason*, real estate $1000, personal estate $200, male citizen, can read/write
- HOGAN, Catharine, 40, keeping house, can read/write
- HOGAN, George, 21, Clerk in brokers office**
- HOGAN, Thomas, 17 [19], coachman
- HOGAN, Ann, 15 [13-17], at home
- HOGAN, Kate, 11, at home, attending school
- HOGAN, Margaret, 8, at home, attending school
- HOGAN, Richard, 3, at home

* This was the only mention I've found of Patrick Hogan's occupation. There is a sense of rightness to "stone mason." He lived at Central Park west during the construction of the park and in Astoria and Whitestone during periods of expansion.

** 21 year old George Hogan, working as a clerk, could have worked at an office in Astoria, or could have commuted by ferry from Hallets Cove over to 92nd Street on Manhattan. I would guess he worked in Astoria, since Manhattan was still quite rural this far uptown, and his commute to the commercial area of Manhattan would have been difficult.
---
WHITESTONE
The Hogans were not Astorians for long. On Jun 15, 1871 another deed was drafted. In this one, Patrick Hogan purchased a plot of land on Cains Lane in Whitestone from a James Fowler, for $325. This deed was not finalized in the Queens County register until Jan 5, 1872.

In the interim, they sold the Astoria land. On August 1, 1871 (recorded September 2nd) Patrick and Catharine Hogan sold the Bradford Street property to Mary P. Hilbert of Long Island City, wife of Frank, for the sum of $1025. The Hilberts, show up in the 1880 census on Bradford St. Both were 70ish in 1880 and born in Alsace. He was a house carpenter.

I've been unable to find further information on Hogan's lives in Queens during the Whitestone period. Presumably they moved to Whitestone, where they continued to work at the occupations listed in the 1870 census, but in a much more rural setting.

But members of the family circle began to fall away. In roughly 1874-75 Thomas married Mary Ann Handy, who was raised in Williamsburgh. I believe the newlyweds may have settled in Brooklyn at this point, but there is a chance that they lived briefly in Manhattan during the early years of marriage.

On Feb 28, 1876, (recorded Mar 1, 1876) Patrick and Catharine sold the Whitestone property to Josiah M. and Mary L. Topping for the sum of $142. There are no further land records for Patrick or Catharine Hogan in the Queens register and I don't know where most of the Hogans were for the period from 1876-1880.

When historical researchers find that a family sold land or made a significant move, they look for significant events that might have prompted a change. Often is it a death, and in this case there is reason to suspect that Patrick Hogan died around that time, but no evidence that connects his death with the sale of the land.

However, there is an alternate theory: a most significant event that took place on May 30, 1876. Patrick's eldest son George entered de La Salle Christian Brothers' Novitiate, Manhattanville, Bronx. One wonders if they sold the land to provide tuition for George's education. (Separate narrative about George, aka Brother Albran Edmund, to come).

To this day I've been unable to find evidence of Patrick Hogan's death, although by the 1870s some kind of death certificate or burial permit was theoretically required for burial. My suspicion, because he was not in Kings or New York County death indexes, is that he died in Queens County, where death records were still a novelty during the 1870s.

It is a mystery to me that Patrick was not buried in the Calvary Cemetery plot of Catharine's brother John Donohue. This plot was purchased in 1861, long before Patrick's death, and it became Catharine's resting place in 1905. Why was Catharine buried in the Donohue plot and not with her husband? Was he a veteran, buried in a military cemetery? Did he abandon the family? Did he disappear? Did he travel somewhere for a cure and die outside NYC? I would guess he did not die before the sales papers for the Whitestone property were drafted, because the papers referred to Patrick and Catharine Hogan, not to the "Estate of Patrick Hogan.&quot.

An aside: for reasons unknown, John Donohue signed a permission slip on May 14, 1883 for Catharine Hogan to be buried to this Calvary plot. John was not buried in this plot, but in another plot he purchased on July 8, 1879. (Separate narrative about the Donohues to come.)

---
Part 4 Widow Catharine in Brooklyn |