EVANS FAMILY IN ASTORIA, QUEENS
Biographical Sketch - Anna Loretto EVANS FLANAGAN (DRAFT, under construction)


Page 1 | Page 2 | Page 3 | Page 4 | Page 5

---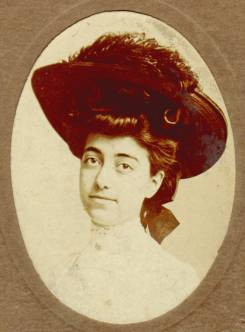 Unmarked studio portrait, probably Anna Loretto Evans, ca. 1880. I have never seen a photo of Charles Flanagan as a young man.
---

Scrapbook page with marriage announcement
---
FLANAGAN-EVANS MARRIAGE
Anna Evans married Charles A. Flanagan, the boy across the street, some time in 1878 or 1879. Because the Long Island City marriage registers are missing from those years, we don't know the exact date. We have an undated newspaper clipping, which appears on a page that includes an item referring to the next Sunday as being the sixth. This could be Jan or Oct 1878 or April or July 1879.
Marriage of an officer
Officer Charles Flanagan of the First Police Precinct, was united in the holy bonds of matrimony with Miss Annie Evans of Astoria, at the church of the Blessed Virgin yesterday afternoon. There was a large attendance of interested spectators who had assembled to witness the impressive ceremony which was performed by the pastor, Rev Father Phelan, and at the close numerous hearty congratulations were extended to the handsome and happy young couple.
At the time of their marriage, Annie was about 23 and Charles about 27, and a new police officer on the Astoria police force. He moved from his childhood home across 2nd avenue, and into the Evans house at number 506, to become head of household by the time of the June 1880 census. During Charles' early years on the police force, Annie collected items on his exploits that she culled from local newspapers. I've listed some of these on the Flanagan Chronicles page.

CHILDREN
Their first children, fraternal twins Margaret Mary (Grant) and Loretta Theresa (Dempsey) were born May 21, 1880, followed a few years later by my grandmother Agnes Frances (Fagan) on March 7, 1886 and Emily Leonidus on Feb 7, 1891. Baby Estella Veronica (Ferguson), born Sept 10, 1895, was not only Charles and Anna's last child, but the last grandchild of Andrew and Sarah Flanagan

Unfortunately, I have found no photos of the girls as children. The earliest photographs we have of any of the family (save Anna) are shapshots of my grandmother Agnes at about age 22, in about 1908. There were among the photos of Anna (Fagan) Fenton, who would become Agnes' sister-in-law.

The girls attended Mt. Carmel school, as did their many of their Flanagan cousins. And they were truly "Flanagan" cousins. Of their roughly 30 first cousins raised in Astoria, all were named Flanagan.

to be continued
---