EVANS FAMILY IN ASTORIA, QUEENS
Biographical Sketch - Margaret CROUGH EVANS (DRAFT)


Page 1 | Page 2 | Page 3 | Page 4 | Page 5

---
MONTREAL
Margaret Crough was born to immigrant parents in Montreal, Quebec, in July of 1831 or 1830 (possibly July 1). Her father's name was Thomas Crough, but I have never seen her mother's name mentioned. The surname has been variously spelled as CROUGH, CROW, CROWE and even CROFT. Even her (potential) relatives in Montreal seem to have been split, using CROUGH CROW and CROWE. I am using CROUGH, though there is no consensus among her records.

Also uncertain are her parents' places of birth, though I think they probably came from Ireland. When? My best guess would have been that they made the crossing to Canada as young adults during the late 1820s, but there is no evidence for this. They might have immigrated as children.

Margaret presumably grew up in Montreal throughout the 1830s and 1840s, as she states in the 1900 census that she came to the U.S. in 1850. I have found no Montreal records for the period she lived there, but I have found records of possible family members in the 1870s, which was a period during which Margaret not only corresponded with, but evidently visited Montreal. (This is based on a telegram sent from Montreal to Charles Flanagan, asking him to pick her up on her arrival back in New York.)

During the 1870s the family lived in an area of Montreal known as Griffintown, which was home to a large Irish immigrant population. Streets with which family members were definitely connected were McCord, Wellington, Chaboillez, Hermine and Juror. At least one family member was associated with St. Ann's Catholic Church, an English speaking parish church, frequented largely by Irish Catholics. At least one burial was at Cote Des Neige Cemetery, the largest cemetery in Montreal.

In a scrapbook belonging to Annie Evans Flanagan, I found an undated but vitally important clipping from a newspaper, an obituary of a woman who was probably the widow of Margaret's brother:
CROUGH - In this city, 168 Wellington Street on the 5th inst., of pneumonia, Johanna Scanlan, beloved wife of Thomas Crough, age 48 years, daughter of the late John Scanlan. Funeral takes place on Thursday morning at 6.45 to St. Ann's Church, thence to Cote des Neiges Cemetery. Friends and acquaintances are respectfully invited to attend.
[New York papers please copy].
On another undated scrap of paper are written the words "Direct your letter in care of James Scanlan, Corner of Hermine and Juror streets, grocer, for Thomas Crow. A Good Night."

This tree shows a very tentative family group based on census listings for CROWEs and CROUGHs living at or near addresses I have found on papers of Margaret's. As is usual with data gleaned wholly from census records, there are contradictions galore, including some birthplaces stated as Ireland. The years of birth, clustered around 1831 are dubious, as many people rounded their ages off, and several of these people reported age 40 in the 1871 census. I haven't excluded any of them, as census information is often mistaken, and Margaret, too, could have been mistaken about her place of birth.

Thomas CROUGH, b. ca. 1800 Ireland?, d. bef 1871 Montreal, Quebec, Can
& Unknown (--?), b. ca. 1800 Ireland?, m. ca. 1825? Montreal?
|
|--Thomas CROUGH, b. ca. 1830? Montreal?, d. before 1871? Montreal
| & Johanna (SCANLAN) CROUGH, b. ca. 1830?, m. ca. 1850? Montreal?, d. ca. 1878?
| \--children?
|--Margaret (CROUGH) EVANS, b. Jul, 1831 Montreal, d. Jul 10, 1911 Astoria, NY
| & George EVANS, b. 1825-26 Bristol, Eng, m. Oct 7, 1851 Manh., d. Nov 21, 1869 Astoria, NY
| \--Anna Loretto (EVANS) FLANAGAN, b. ca. Feb 22, 1855 Manh.?, d. Mar 20, 1934 Astoria
| & Charles A. FLANAGAN, b. Jun 19, 1851 Astoria, m. 1879, d. Jan 11, 1918 Astoria
| \-- five daughters, 17 grandchildren, 39 great-grandchildren, etc.
|
|------The families below are tentative------
|--Matthew CROWE/CROW, b. ca. 1827 Ire, d. aft 1871 (res: 35 McCord)
| & Bridget b. ca. 1833 Ire
| |--John b. 1861 Quebec
| |--Catherine b. 1864
| |--Patk b. 1867
| \--Matthew b. 1869
|-- Michael CROWE/CROW, b. ca. 1831 Ire?, d. aft 1871 (res: adjoining 43 McCord)
| & Catherine b. 1831 Ire, d. aft 1871
| |--Bridget b. 1851 Ire
| |--Mgt b. 1853 Quebec
| |--Michael b. 1857
| |--John b.
| |--Martin b. 1859
| |--Matthew b. 1859
| |--Mary ? b. 1866
| \--Patrick b. 1869
\--John CROWE, b. 1835 Ire, d. aft 1871 (res: 292 William)
& Margaret ?, b. 1839 Ire, m. ca. 1850 Montreal, d. aft 1871


---
MANHATTAN
One wonders why, how and with whom Margaret left Montreal for New York City, but all we know is roughly when she did. 1850, as stated on the 1900 census. And how and where she met English immigrant George Evans we also don't know. All we know is that this presumably mixed Protestant, Catholic marriage took place at St. Peter's Roman Catholic Church on Barclay Street in Manhattan on October 7, 1851. More details in the George Evans sketch.

From the day of her marriage until her widowhood in 1869, Margaret is seen in records only as a member of her husband's household. She was George's childless wife in the 1860 census and doubtless moved to Astoria in 1866 when the land on 2nd Avenue was purchased. I have dealt with the mystery of her daughter Anna's birth in the George Evans sketch.

---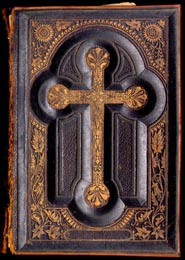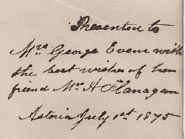 Key to Heaven by Right Rev John Meliner, DD (17 Barclay Street: Thomas Kelly, 1874)

ASTORIA
George's death on Sunday November 21, 1869, was the first of a rash of deaths in the extended Flanagan family in Astoria. He died suddenly and was buried the following Wednesday in a plot at Calvary newly purchased by Margaret. Andrew Flanagan died three months later. Charles Exertier, Andrew Jr's father-in-law died two years later, in January of 1872.

Margaret was close to Exertier's daughter Adelaide, Mrs. Andrew Flanagan Jr., as evidenced by this book, The Key to Heaven, signed July 1, 1874, a date I suspect was Margaret's 43rd birthday. Adelaide's youngest son, Julien Evans Flanagan, born July 1, 1884, probably received his second name in Margaret's honor.

How did Margaret survive after George's death? George left no will, but he left her a house, a sewing machine and a savings account at Emigrant Savings Bank. There were no estate administration or probate papers, but I assume all went into Margaret's name. Annie, age 16[sic], was working in a grocery store in the 1870 census, and the two of them probably struggled along until Annie's marriage in 1878-79. In 1870, they had already taken in boarders, a young native New York couple named Fredric and Mary Gamenda.

An item of interest: Margaret filed her declaration of intention to become a citizen of the U.S. on August 16, 1872. Lacking the right to vote, most women had no incentive to apply for naturalization. Margaret did, so one asks why. Perhaps to expedite trips to and from Canada, or perhaps to gain some advantage as a home-owner? Again, no resolution has surfaced. Margaret Evans, widow of George Evans, received her citizenship certificate from NY Common Pleas court in Manhattan on September 1, 1874, her witness being Margaret Taylor of 963 Pacific Street in Brooklyn. (Perhaps related to John Taylor who witnessed her marriage in 1851).

---
About 1878-79 (exact date unknown) Annie married the boy across the street, Charles A. Flanagan, youngest son of Andrew Sr. and Sarah Flanagan. Charles, who had been an apprentice carpenter in 1870, living with his widowed mother, joined the Astoria police at about the time of his marriage.

The June 1880 census finds the family with no boarders and with Charles 29, supplanting Margaret as head of household. Annie had one-month old twins, Margaret and Loretto, and Margaret Evans, now listed as mother-in-law to the head of house, was probably living in the upstairs apartment, vacated by the Gamendas. I should emphasize that Margaret was still the owner of the house, only signing it over to her daughter in 1901.

As evidence of continuing ties with Canadian relatives, we have a handwritten application form for the Western Union Telegraph Company for a telegram to be sent from Margaret Evans in Montreal to Charles Flanagan in Astoria, dated Oct 3, 1883. The message: "Will not go till tomorrow. Thursday. Meet me tomorrow night. Mrs Evans."
(Note that an address was not included, suggesting that Astoria was still so small that they were not necessary.)

Other than that, we know only that Margaret continued to live with her daughter and son-in-law and probably served as live-in baby-sitter to their growing family of girls, the twins Maggie and Loretta, and Agnes, Emily and Stella.
---
Death Notice
Wednesday July 12, 1911
Death notice, found in Charles Flanagan's prayerbook, pg. 33. Its probable source was the Long Island City Star

EVANS, on Monday July 10th, 1911, Margaret EVANS, beloved mother of Mrs. Charles A. Flanagan.
Funeral from her late residence 506 Second Ave, Astoria, LIC, Wednesday July 12, at 10am, our Lady of Carmel, Astoria, where a requiem mass will be sung for the repose of her soul. Interment Calvary Cemetery.
---
Photos of the three Flanagan gravestones at Mt. St. Mary's where Margaret and George Evans were reinterred in 1916
---
DEATH
Margaret was under medical care for chronic endocarditis from Jan 1, 1910 until her death, which occurred on July 10, 1911, hastened by a spell of heat prostration.
Postmarked July 4, 1911 in Astoria, was a small envelope containing two unsigned prayer cards, one simply a picture of St. Margaretha, and the other a short prayer:
O Jesus, sweet Jesus, O Jesus divine, My life and death unto thee I resign, Every action of mine shall Thy patronage claim: For whatever I do shall be done in your name.
While this may have been a birthday card, the subject matter suggests it may have been related to a death watch.
---
Jul 12, 1911, Old Calvary-section 8, range 44, plot N, grave 13, Woodside, Queens, NY, USA (Requiem mass at Our Lady of Mt Carmel).
Certificate & Record of Death, City of New York Dept of Health, Jul 10, 1911,
Queens, cert# 2163, FHC
Full name: Margaret Evans
DOD: Jul 10, 1911 12pm;
age 81; widowed, occupation: none
died at: 506 2nd ave LI City (private residence)
born in: Canada;
Years in US: 60 Years in NY: 60
Father: Croft, Thomas; b. Ire;
Mother: unknown, b. Ire
First attended: Jan 1, 1910
Cause of death: chronic endocarditis contrib: heat prostration
Burial: Calvary Jul 12, 1911
Undertaker: John J. Keegan, 35 Steinway, LIC
Doctor: John A Rinay, 800 Crescent St, LIC.


---
Page 4 - Anna (EVANS) FLANAGAN