EVANS FAMILY IN ASTORIA, QUEENS
Biographical Sketch - Anna Loretto EVANS FLANAGAN (DRAFT, under construction)


Page 1 | Page 2 | Page 3 | Page 4 | Page 5

---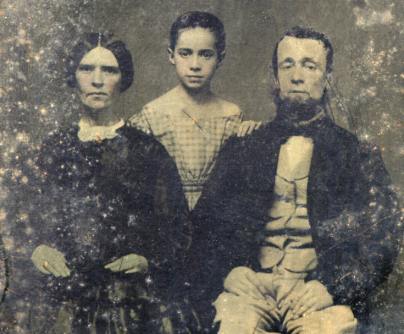 ca. 1865-67? Tentatively identified as Margaret, Anna and George EVANS. Detail from undated, unidentified tintype. [Full tintype]

ANNA'S BACKGROUND
I've dealt with the mystery of Anna (aka Annie) Evans' birth in part 1. Suffice to say, a blood connection between Annie and her parents is not established, and we consider the possibility that she was adopted by George and Margaret Evans some time between the age of 5 (1860) and 12 (1867).

I am repeating this photo so that one can study the facial characteristics of these three people. Though we can't say with certainty that they are George, Margaret and Annie, single child families were rare during the 19th century, and that fact alone rules out all of our other known relatives. An expert on 19th century dress, also dated this to the 1860s, which fits neatly with known ages. In 1865, Anna would have been 10, George about 39 and Margaret 34. The tintype is the earliest possible evidence of a link of Annie with her parents.

Annie generally gave her date of birth as February 22, 1855, but I have found no civil birth record for an Anna Evans in a search of several years of registers. Note that birth registration was not compulsory in those days, and many births were unrecorded, so this in itself is not significant. Baptismal registers were often the only official record of a baby's birth, but Catholic registers remain unfilmed and in the care of their original church. One must write to each likely church, including donation. I have requested a search of the baptismal records St. Peter's Church on Barclay Street, where George and Margaret married, but they found nothing.

---
THE 1870s
The first irrefutable link between Anna and the Evans family is the Federal census taken in June of 1870. I assume the Gamendas are living in the separate apartment:
EVENS, Margret 39 Keeping house, $1,500 real estate, b. Canada
EVENS, Anna 16, works in store, b. NY
GAMENDA, Fredric 23, clerk in store, b. NY
GAMENDA, Mary 23, Keeping house, b. NY

Three months later, we have evidence that Anna was teaching catechism: a book "A Full Course of Instructions for the use of Catechists" by the Rev. John Perry. (New York: D. & J. Sadlier & Co., 31 Barclay Street.) There is no publication date, but blurbs on the front pages refer to a February 1860 printing of "Perry's Instruction on the Catechism." This book is inscribed on the inner cover:
Astoria, July 14th '70
To Miss A. Evans,
Teacher at the R.C.S. School [or R.L.S.?]
from J.P. [probably John Perry, the author]
I have found no further evidence of employment as a teacher, but I would guess this was a Sunday School associated with Our Lady of Mt. Carmel Church. Aside from the curiousity value of this item, I should point out that the fact that she was performing as an instructor in 1870 (age 15), makes it extremely unlikely that she was born any later than 1855.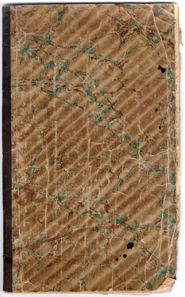 Notebook #1, begun during the early 1870s

During the 1870s Anna began keeping two notebooks. While their contents shed little light on her personality, they are artifacts of some interest. They were identical 12.25" x 7.75" books with sewn binding, ruled ivory paper and alphabetic thumb-tabs.

The earlier book is filled with sentimental poetry, probably copied out as calligraphic exercises. A few of them are dated, 1871-1873, but not chronologically. The pages are more or less in tact.

On February 11, 1875, 20 year old Annie began the second, more elaborate book: a scrapbook. This too, had calligraphic exercises, but there are also clippings. The majority of these are insignificant: household hints, lists from almanacs, cute stories, etc. but there are also a few personal items: newsclippings on her husband's career, items about Flanagan parties, and obituaries of local clerics. It covers many years, with entries made by her daughters during the early 20th century. There are extended Long Island Star obituaries for pastors of Mount Carmen Church--Father Phelan on March 12, 1880 and Rev. William McGinnis on Jan 5, 1883. From the New York Herald Jan 31, 1883 is an extended news story on the funeral of Archbishop Hughes.

The second book is in pieces. The pages have long been torn from the sewn binding, and because it is longer than the first, I believe pages have been inserted from other books. It is also not chronological, with some pages including items from a wide range of dates.

---
Page 5 - Anna (EVANS) FLANAGAN
---