EVANS FAMILY IN ASTORIA, QUEENS
Biographical Sketch - George EVANS (DRAFT)


Page 1 | Page 2 | Page 3 | Page 4 | Page 5

---
We have found a few good pieces of material shedding light on George Evans' life in the United States. We have an 1851 marriage certificate, 1851 and 1860 naturalization papers, city directories from 1856-1868, an 1857 bank account, an 1860 census listing and an 1866 land deed, Finally, at his death in 1869, we have a short death notice, a cemetery deed and interment lists. We know he was a ship builder.

Unfortunately because his life was short and his death occurred in Queens County prior to the maintenance of civil records, it is difficult to glue it all together. If it appears that I have, I should point out that it has taken me roughly eight years to construct a story that is more intriguing than illuminating. Future research on George would involve access of British records, and research on Margaret would probably involve a trip to Montreal. In other words, continuations of their stories are probably several years in the future.

---

BRISTOL
George Evans stated that he was born in Bristol, Glocestershire, England about 1825-26 to William Evans and Rebecca Hall. We believe that he immigrated in 1849 and we know he applied for U.S. Citizenship in 1851, the earliest possible date, suggesting that he came to the U.S. fully intending to make it his home.

In 1857, when George opened his Emigrant Savings Bank account in Manhattan, he stated that his father was still alive in England and his mother deceased. From this we can infer that George maintained correspondence with the old country. But we have no more information about his parents than that. In his account information George made no mention of siblings. This doesn't rule out the existence of siblings, but doesn't help us either. It is likely that George's baptism (assumed to be Protestant) was recorded, but the name is so prolific that tracing it will be laborious.

Bristol was a significant seaport and shipbuilding town in southwest England, located across the River Severn from Wales. Though we know nothing of George's early life or the ancestry of his parents, the name of Evans, a common Welsh name, and the proximity to Wales raises speculation on Welsh origins of his ancestors. We can also speculate that George's occupation of ship-joiner was learned in Bristol and that he was employed in that profession early in his stay in New York City. Though he immigrated during the late 1840s, at the time of the Irish famine, his motives for migrating are unknown to us.

---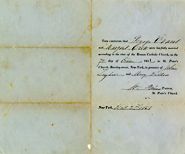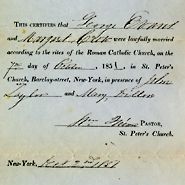 Marriage Certificate. Click to see detail.
The Witnesses
Mary Dillion is unknown.
John Taylor: A Margaret Taylor, whose husband's name was John, was witness to Margaret Evans' own naturalization in 1874. This John Taylor was born in England and was George's age. Margaret Taylor was born c1828 in Ireland. The Taylors' home base was 963 Pacific Street in Brooklyn from at least 1874-1889. Margaret became a widow between 1880 and 1889.)

MANHATTAN
George states in his 1857 bank account information that he arrived in January 1849 on the Bark Apollo, on a voyage originating from Grenock [a port near Glasgow, Scotland]. There is no record of this ship arriving in Manhattan, and one wonders if he arrived in some other port, or on a ship of similar name. There is also the intriguing question of why he left from Scotland when he was so much closer to the port of Liverpool.

I have, in particular, wondered how he met Montreal native Margaret Crough, whom he married in Manhattan in October 1851.

Was Montreal his port of entry? Did Margaret travel from Montreal to Manhattan with George? This is problematic, since Margaret's family lived in Montreal. By tradition, she should have married her fiance in Canada with family present, not followed him to New York. Did they meet for the first time in Manhattan? We have no clue at present, but the latter is my hunch.

Neither of them is recognizable in the 1850 census in Manhattan. If they were living in Manhattan in 1850, they were missed by the census or their names massacred by indexers.

Whatever the details, George would have been roughly 26 years old on April 26, 1851 when he filed his declaration of intention to become an American citizen. This application was generally not accepted until an immigrant had been in the country for two years.

On October 7 of the same year, George Evans and 20-year-old Margaret Crow (per spelling on certificate) married at St. Peter's Church on Barclay Street in Manhattan, the oldest Catholic Church in New York City. Their witnesses were John Taylor and Mary Dillon. (see sidebar)

George first appeared in the 1856 New York City directory listed as a "joiner" living at 387 9th Street. (This was what we now know as East 9th street, as there was no West 9th Street.) This was to be the family's address at least until 1860 and possibly until 1866.
Federal census taken June 20, 1860, Multi-family dwelling - many ship builders in other units.
EVANS, George, 34, m, w, Ship joiner, b. Eng
EVANS, Margaret, 27, f,w, b. Can
Just who the family consisted of in 1860 is George and Margaret Evans' greatest mystery. Their daughter Anna Loretto, by most accounts born Feb 22, 1855, was absent from the family nose-count on two important documents on which she should have been mentioned. First, the personal data section of the Emigrant Savings Bank account opened by George on Sept. 26, 1857, in which he stated that he had no children, and secondly, the 1860 census, which shows Margaret and George living alone.
Was Anna born after 1860? Not likely. Anna was said to be age 16 in the 1870 census and working in a store.

Although it's hard to accept, the most logical explanation is that Anna was adopted--and probably between 1860 and 1867, when the (presumed) Evans tintype would have been taken. The fact that single child families were rare in the 19th century would also support the adoption theory. I doubt that issue will ever be resolved, but I suspect we are not blood descendants of George Evans and Margaret Crough. Nonetheless, their daughter Anna Evans is our ancestor and her family's story is ours.

Although he was eligible for citizenship in 1854, three years after he filed his Declaration of Intention, George waited until 1860 to take out naturalization papers. He did so Oct 2, 1860 in Common Pleas Court, Manhattan (Bundle 246, copy of record# 49.) His witness was William Boyd, another ship joiner who lived in his building. Anna kept both her parent's citizenship certificates.

Page 2 - George Evans