---
Historical narrative, pages 1-5 | pages 6-10 | IMAGE pg. 6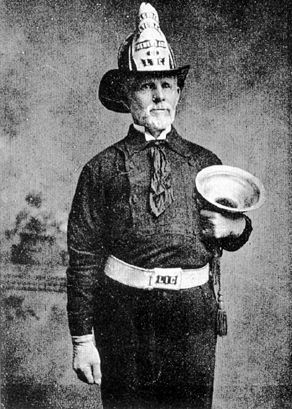 JAS. F. FOLEY President Veteran Firemen's Association 1900 to 1906

and took possession of our new and present building located at No. 156-158 Grand Avenue.

FACTS REGARDING THE NEW BUILDING.
A COMMITTEE on securing an available site for our new quarters was appointed on March 2, 1903. The Committee having performed their duties were discharged on June 5, 1905 The land for the new building was purchased on August 7, 1905.

The contract for the building was awarded to Thomas Walsh, Contractor, on July 9, 1906 The corner stone was laid on March 20, 1907, with appropriate ceremonies, and the dedication exercises of the building took place on Decoration Day May 30, 1907

There was a parade through Astoria in the morning and a public reception during the afternoon and evening at which hundreds of the leading citizens of Astoria and vicinity, public officials from all parts of Queens, and a large delegation from the New York Veteran Firemen's Association were in attendance.

The site of the present headquarters was purchased largely through the efforts of ex-President James F. Foley, who-was given valuable assistance by Fred C. Trowbridge, a member of one of the oldest and best-known families of Astoria and also a member of the Association.

The following composed the Building Committee who so Successfully brought about the erection of the present quarters:
Edward F. Flanagan, Chairman; R. Peseux, W. H. Thompson, J. T. Allen, F. C. Trowbridge, B. J. McGowan, Thomas J. Cain, John P. Hynes, B. H. Tompson, D. M. Tompson, E. C. Northacker, George L. Casey, P. J. Bannon, E. Krombholz, James F. Foley, W. N. Mason, James H. Kelly, S. A. Matthews and John Horan.
---
Narrative, page 7 [IMAGE pg. 7]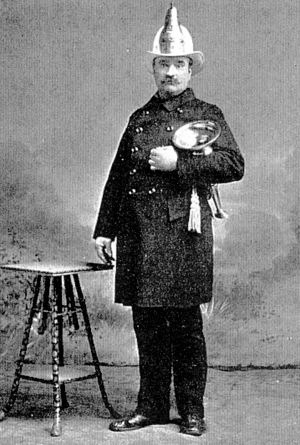 JOS. T. ALLEN President Veteran Firemen's Association 1907

NOTES OF INTEREST.
It was due to the efforts of the late Chief Engineer of the Fire Department of Long Island City, George Casey, that the first meeting was held in Firemen's Hall, 157 Fulton Avenue, on January 22, 1890, to discuss steps necessary to be taken to organize a Veteran Firemen's Association.

On February 16, 1891 the parade hose carriage of Mohawk Hose Company No. I was bought by the Association from the Fire Commissioners of Long Island City, and it now forms one of the greatest attractions, among other relics of the past, in the rooms of the Association on Grand Avenue.

The famous "Big 6," or Americus Engine, was presented to the Veterans Association by the following ten members on July 3, 1905: James F. Foley, Joseph T. Allen, Owen J. kavanagh, A. C. Woods, B. J. McGowan, Fred T. Hallett, P. A. Leininger, James Ingram, James H. Johnson. George H. Smyth.

Signal lamp of "Big 6" was presented to the Association by Mrs. Tony Burke (widow of last Foreman of "Big 6"), September 11, 1905. It is valued at $500.

The old Fourth Ward School bell was presented to the Association by the Board of Education on November 10, 1906

WHERE WE HAVE PARADED.
The Veteran's Firemen's Association has participated in many parades and public events since its organization, among which may be mentioned: Flushing, September 7, 1903; Rockaway Beach, October 20 1904; Rockville Centre, October 19 1905; White Plains, September 12, 1906: Flushing, October 18, 1906; Greenport, October 17, 1907; Poughkeepsie, August 19-20, 1909; Freeport, October 6, 1910; Newburg, August 23,
---
Narrative, page 8 [IMAGE pg. 8]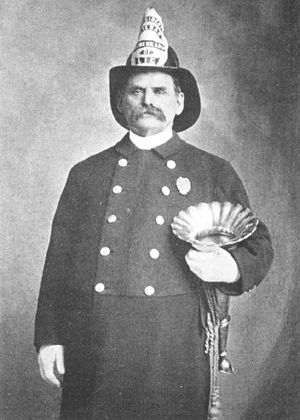 EDW. F. FLANAGAN President Veteran Firemen's Association 1908

1912; Rockville Centre, October 3, 1912; Haverstraw, June 18, 1914; West New York, N. J., September 7, 1914. The opening of the Queensboro Bridge, June 12, 1909 dedication of Firemen's Monument, Riverside Drive, New York City, September 5,1913.

LIST OF THE PRESIDENTS. THE following is a list of the Presidents of the Association since its organization:
GEORGE L. CASEY, 1890.
W. H. GIBSON, 1891.
O. F. WOODS, 1892.
P. A. LEININGER 1893.
P. S. DONNELLY, 1894.
P. LANAGAN, 1895-6-7.
B. J. McGOWAN, 1898.
P. LANAGAN, 1899.
J. F. FOLEY, 1900-1-2-3-4-5-6.
J. T. ALLEN, 1907.
E. F. FLANAGAN, 1908.
B. A. MACDONALD, 1909-1910
T. F. CURRAN, 1911-1912.
W. H. THOMPSON, 1913-1914

VOLUNTEER FIREMEN IN CIVIL WAR.
WHEN President Lincoln called for men to Stand by the Flag, at the opening of the Civil War, no class of our citizens responded with greater enthusiasm than the Volunteer Firemen of the City of New York. The First Fire Zouaves, officially known as the Eleventh New York, was recruited amidst a tempest of enthusiasm. The gallant Ellsworth, who was shot to death at Alexandria by a man named Jackson, proprietor of the Marshall House in that city, led the Zouaves. He saw a Confederate flag floating from the top of the hotel and entered the building and tore it down with his own hands. Jackson was promptly shot and bayonnetted by Frank E. Brownell, a private in the Zouaves. These were the officers of the Ellsworth Zouaves when they left New York City, on board the Baltic at the foot of Canal and Spring Streets, April 29, 1861 : Elmer E. Ellsworth, Colonel: Noah L. Farnham, Lieutenant Colonel,
---
Narrative, page 9 [IMAGE pg. 9]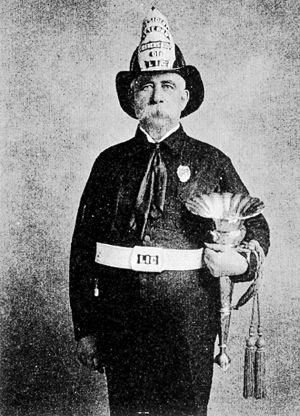 B. A. MACDONALD President Veteran Firemen's Association 1909-1910

Assistant Engineer Hose No. 40; Charles McK. Leoser, Adjutant. Captains--Co. A, John Coyle, Hose 22; Co. B, Edward Byrnes, Engine 16; Co. C, Michael C. Murphy, Hose 41; Co. D, John Downey, Engine 34; Co. I, John B. Leverich, Hose 7; Co. F, William H. Burns, Engine 6; Co. G, Michael Teagen, Engine 13; Co. H, William Hackett, Assistant Engineer Engine 20; Co. I, John Wildey, Engine II; Co. K, Andrew D. Purtell, Engine 14.

The Second Fire Zouaves was organized May 3, 1861, and consisted almost entirely of firemen and runners. Colonel James Fairman was temporary Colonel, but before the regiment reached the front William R. Brewster, of Brooklyn, was elected and led the regiment until the close of the war. The company officers comprised the following firemen:

Co. A, W. Burns, Hose 21; Co. B, Thomas Smith, Hose 56; Co. C, A. Gibson, Hook and Ladder 15; Co. D, Daniel Crowley, Engine 20; CO. E. William E. Fisk, Engine ?2; Co. F, Alfred A. Donald, Engine 17; CO. G, John Feeney, Hose 50; Co. H, William McCaully, Engine 40; Co. I, Charles B. Elliott, Hose 7, Williamsburg and Lieutenants William Gleeson, Engine 3; John J. Glass, Engine 16; Eugene C. Stine, Engine 31; John Phelan Hose 10; Michael Feeney: Hose 6; Matthew Stewart, Hose 50; John T. Lawrence, Hose 11; Washington Mullen, Hose 22; John P. Skehan, Engine 20.

The regiment was merged into the Seventy-Third New York Volunteers, but the boys called themselves the Second Fire Zouaves to the end of their service.
---
Narrative, page 10 [IMAGE pg. 10]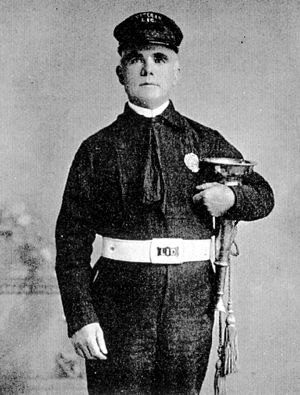 THOS. F. CURRAN President Veteran Firemen's Association 1911-1912

OUR FIREMEN. One of the most touching tributes to the old volunteer firemen was written by Eliza Cook, under the caption of "Our Firemen."

When the red sheet winds and whirls
In the coil of frightful death,
When the bannered smoke unfurls
And the hot walls drink our breath;
When the far-off crowd appears,
Choking in the demon glare,
And some helpless form appears
In that furnace of despair:
"Save! Oh Save!" the people cry;
But who plucks the human brand?
Who will do the deed or die?
'Tis a fireman of the land!
Then give them honor, give them fame,
A health to hands that fight the flame.