The caption reads:
"a trio of musical celebrities--(left to right) Mengelberg, the famous conductor of the New York Symphony Orchestra [sic] Josef Hofmann, a pianoforte virtuoso; and Fraser Gange the well-known baritone."

Correct Orchestra was the New York Philharmonic Society.

The New York Symphony Orchestra was a different group led by Walter Damrosch. In 1928, the NYSO was absorbed by the NY Philharmonic.
---
The caption reversed Gange and Mengelberg's positions. The corrected identification is on the right.
---
Return to the Steinway - 1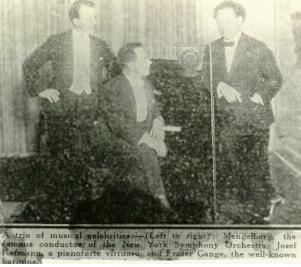 Fraser Gange, Josef Hofmann, Willem Mengelberg
Photo taken October 27, 1925 after the opening concert of Steinway Hall at 100 West 57th Street in New York.

A newspaper clipping of unknown origin, from the collection of Amy Evans Gange. (Courtesy of Diana Roberts, with technical assistance from Brian Harrison)