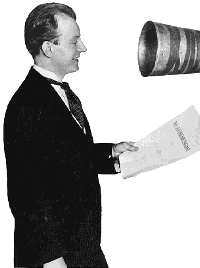 HMV publicity photo of Fraser Gange singing into recording horn.
This home page presents the Scottish baritone Fraser Gange, who was born in Dundee, Scotland in 1886 and died in Baltimore, USA in 1962.

Gange made his debut as a recitalist in London in 1906 and built up a solid recital and oratorio career in Britain throughout the teens and early 1920s. After his New York recital debut in 1924, he became an active soloist in the top echelon of U.S. orchestras, singing in historic performances with such conductors as Koussevitzky, Mengelberg, Toscanini, and Furtwaengler.

In 1932 he abandoned the concert stage for a second career as a full-time teacher of singing, in New York at both his private studio behind Carnegie Hall and the Juilliard Summer School, and in Baltimore at the Peabody Conservatory.

Along the way he made a handful of records for HMV and Columbia. Although Gange has been unjustly neglected by time, these records are still prized by many who are charmed by his artistry and his gift for vivid storytelling.

We hope you will read on and share any thoughts, recordings or remembrances with us through this Fraser Gange Home Page.