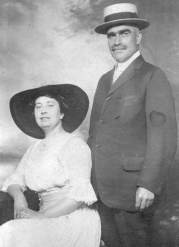 A studio portrait of Mike and Anna taken in Atlantic City, probably during the teens.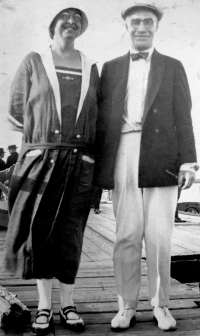 Snapshot taken in August 1924, possibly at the docks in Freeport, NY.
MIKE FENTON Anna Fagan's 1915 marriage to Michael Joseph Fenton, a man twenty years her senior, was a short one. Mike died 15 years later. But judging by the fact that Anna was still talking about him years later wnen I knew her, it was a happy period for her. During my time, Anna kept Mike's favorite silver bottle opener on a prominent shelf near the kitchen doorway and we children knew this as "Uncle Mike."

Based on unsubstantiated information supplied in his transcript of death, Mike was born May 27, 1862 in Ireland. Sources vary as to his parents names, but his mother was Margaret Moore (or possibly Redmond) and his father was farmer Denis Fenton in the town of Midleton, County Cork, Ireland. (for known details of the FENTON family, see the background section.)

Mike arrived in the port of New York in April 1881. By 1887, when he was naturalized, he had found work as a porter and was living at 144 Madison Street on the lower east side. He had relatives living nearby from the beginning. Thomas Fenton (ca. 1840-1907), who may have been Mike's uncle, and who had immigrated around 1866, also lived on Madison Street. It was Thomas' marriage to younger Irish immigrant named Catherine Ahearn (ca 1856-1915) that produced Catherine (Fenton) Campbell, mother of the Campbell and Crowley lines, and John Fenton, who was a regular visitor to Shonnard Avenue.

Mike probably lived in Staten Island during some of the span of time between 1887 and 1905. The only clue I have found for that span is from Staten Island in 1905. Mike's name finally surfaces in 1907, when he took out his first listing in the Manhattan City Directories as an Attendant at Manhattan's Criminal Court. Until his 1915 marriage, you can trace his movement through a succession of lower east-side addresses. It was also in 1915 that his job listing changed to Chief attendant, Court General Session. Family legend says he was a prison warden - at what we now call "the Tombs", the criminal court building mentioned in the 1907 listing.

Anna and Mike, aged 33 and 52, were married July 3, 1915 at Saint Ann's Catholic church on 110 E. 12th St in Manhattan (this austere stone church is still there.) Witnesses were James D. Sheils and Anna Mullins ( * ). The Fentons spent their first four married years at 537 West 150th Street, a Manhattan apartment building. Matthew (and probably Mary) Fagan joined Mike and Anna on 150th Street after Matthew's stroke around October of 1917. During the years on 150th Street, Anna commuted to her her assignments in the Queens Public School system and to classes at CCNY. Mike commuted to his new job at the General Sessions Courthouse.

After 1919/20, when they bought the house in Freeport, they both continued to work in the city - Mike in Manhattan until his death and Anna in Queens until her retirement.
* Anna Mullins' name was in the roster of the first school at which Anna taught: PS 83 in Long Island City. Mullins' years of service began in 1905, Anna's in 1906. I have a few shreds of evidence that Anna Mullins married fellow teacher Charles O'Hagan at PS 83 and was known to us as Mrs. Ann O'Hagan, Anna's life-long friend. In 1956, Mrs. O'Hagan was living at Town Line Farm in Beckit, Massachusetts.
James D. Sheils (or Shields) is a link to a family mystery. He was married to Ella Lattimore, whose name is inscribed on the cover of one of the family bibles. We have three other 19th century papers for the Lattimores, more than we have for the Fagan family. I don't know if the Lattimores were related to the Fagans or Fentons, if at all.