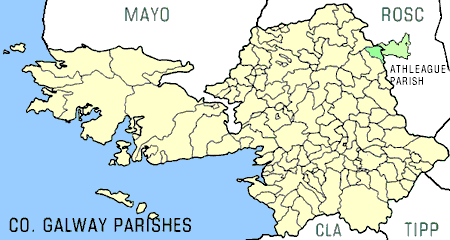 STATEMENT #1: "A.F. is a nat of Killine par. Athleague, Co. Galway"
STATEMENT #2: " Native of Grandyhua..r? [unreadable] par. of Athleague, Co Galway"
---
Athleague is a small parish that crosses the Roscommon/ Galway border. The smaller portion of Athleague (17 townlands) is in Galway; the larger (24 townlands) is in Roscommon.

AF mentioned "Killine." This could refer to Killian, the Barony within which Athleague in Galway resides.



The third place name is undecipherable.
It appears to be "Grandyh...er" or "Ged..yh..r" but nothing remotely like these shows up in any list of Irish place names, much less in Galway or Roscommon. One suspects that it was an unfamiliar word and that the clerk wrote it out phonetically. In this case, it could also be a word beginning with C or K.