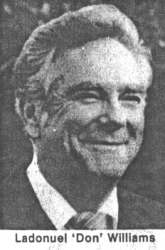 Well-known gospel singer dead at 60
(From unidentified Knoxville newspaper after Don Williams' March 5, 1985 death)
Well-known gospel singer Ladonuel "Don" Williams has died at the age of 60, of cancer. He passed away Tuesday afternoon at his home in Seymour.
Williams, who with his partner Earl Mays, of Knoxville, formed the duo "Don and Earl," sang in churches throughout the United States. During most of that period their taped radio broadcasts could be heard from Mexico to Canada and several other countries on some 100 different radio stations including the continent's then most powerful, XERF in Mexico.
Williams wrote many songs during that time which are still performed by others.
Williams' singing career was launched after he won an amateur contest while in the Army during World War 11. Following that he performed in the long-running USO drama "Glory Road," which chronicled the exploits of the 66th Infantry Division, in which he served.
Williams portrayed an enlisted man and sang "When My Blue Moon Turns to Gold Again" and "The Great Speckled Bird" in the drama which entertained thousands of troops and was praised by "Stars and Stripes," the Army newspaper, as the best USO drama of the war.
After his return to East Tennessee, following the war, Williams worked briefly as a coal miner in his native Briceville, and performed In a country music band. Following his religious conversion in 1946, he turned to gospel music.
In 1950 he recruited Mays to form the duo "Don and Earl." Their radio show could be heard locally for many years over radio stations WKXV and WIVK in Knoxville. Williams moved to Seymour in 1956, where he resided with his family until his death.
Relatives said Williams would long be remembered for his charitable nature, his sense of humor, his singing ability, and for his dedication as a Christian.
Williams was a member of Gospel Baptist Church, on Avenue A In Knoxville, where his funeral is scheduled for 2 p.m. Friday. The family will receive friends Thursday from 7 to 9 p.m. at Berry's Chapel in Knoxville.